L'hymne à l'amitié a inspiré ce spectacle à Roula Safar Mezzo-Soprano et à Amin Elsaleh dramaturge en avant-première de son prochain opéra "La Justice Des Immortels". ---------------------------------------- Programme de l'événement - poèmes de Paul Valéry, de Mahmoud Darwich , poème soufi de Ibn Arabi , en français et en arabe , textes en suméro-akkadien et en araméen ancien, mis en musique par Florence Baschet, Thierry Machuel et Roula Safar - chants traditionnels byzantins, chants en araméen syriaque et chaldéen - improvisations de Stéphane Puc à l'accordéon et de Roula Safar, mezzo- soprano s'accompagnant de sa guitare et de ses percussions sur le texte de Amin El Saleh.
Réservation:http://www.billetreduc.com/182908/evt.htm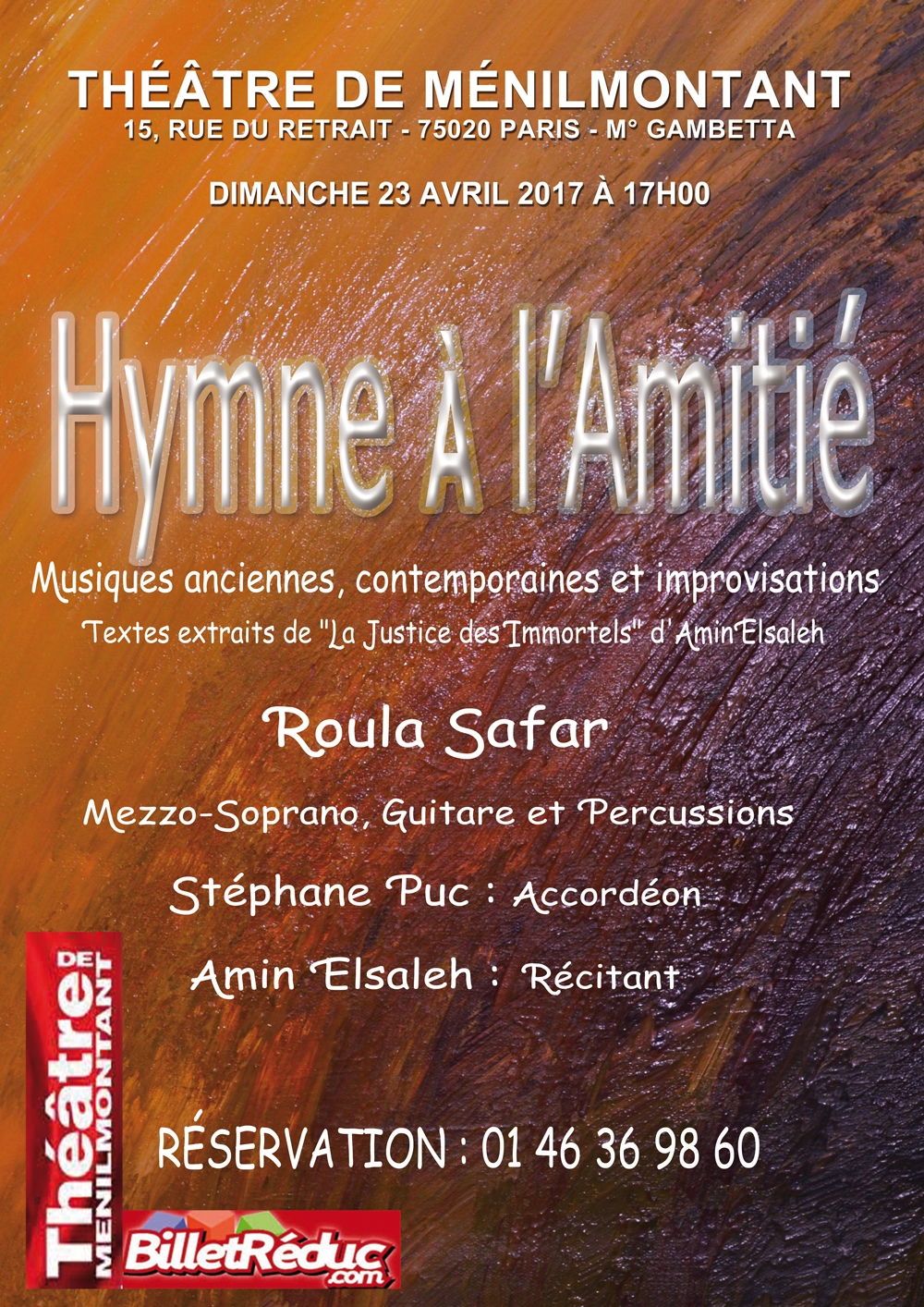 There are pains of poverty, coercion and homelessness that unity the Christian –Islamic suffering on the whole world scale Christianity and Islam are both invited as far as their values and precepts are concerned to side with those persecuted and afflicted within their simplest human rights, from Palestine until the farthest of our open wounds, otherwise the Christian - Islamic dialogue would not be in its right site.
In this case shall we call upon the religious Islamic and Christian organizations to stop their false role which is used as a cover for politics trader? and shall we also work hard to set free the religious consciousness from deformities that shut off the passageways of purposeful dialogue? We should withdraw this religious cover from those powers who are taking advantage of it and leaning on, and through it they are stealing mankind hopes in rescuing the civilization, so we find ourselves bound to take a quick action through a dialogue takes place and leading a common life among religions, we should take the valuable civilized values as a reference, and we should protect it, not only because it is a must for our Arabic and Islamic world , but because it is an example to be imitated in the human society which loses day after day such wonderful examples, no doubt that the internal peace in Our Arabic homeland is the most important and strongest weapon in our struggle against enemies also this will be the other face of our resisting and opposing identity, so shall the Arab nation be conscious of their fate and get out of religious extremism into a more beautiful cleaned atmosphere , by purity of Islam and Christianism .
Read more...