L'interview sur radio MCD par l'animatrice Ghada Khalil:
https://www.mc-doualiya.com/programs/hot-coffe-mcd/20170422-%D8%B1%D9%88%D9%84%D8%A7-%D8%B3%D9%81%D8%B1-%D8%A3%D9%85%D9%8A%D9%86-%D8%A7%D9%84%D8%B5%D8%A7%D9%84%D8%AD-%D9%86%D8%B4%D9%8A%D8%AF-%D8%A7%D9%84%D8%B5%D8%AF%D8%A7%D9%82%D8%A9
NEW VERSION OF 23RD APRIL EVENT - PUBLISHED AT YOUTUBE TOO:
https://www.youtube.com/watch?v=4EqX8-HGkkQ
Hymne à l'Amitié : Musique ancienne contemporaine improvisation
Extrait de la représentation du 23 avril 2017
L'hymne à l'amitié a inspiré ce spectacle à Roula Safar Mezzo-Soprano et à Amin Elsaleh dramaturge en avant-première de son prochain opéra "La Justice Des Immortels".
----------------------------------------
Auteur : Roula Safar, #AminElsaleh, Stéphane Puc
Artistes : #RoulaSafar, #StéphanePuc
#MusiquesAnciennes, #Contemporaines et #Improvisations
----------------------------------------
#cultureparis  #festivalAvignon, #théâtresparisiens, #centresculturels,  #artetculture,  #fondationsculturelles, #france24, #mcd #mairiedeParis,  #laterrasse, #lacalade,  #théâtreodéon, #comédiefrançaise,  #fondationalliancefrance,  #AgaKhanMuseum, #theatredechaillot #theatrebouffesdunord, #maisondelaradio  #opera #TED #unesco #TEDx
Roula Safar :
=========
A charismatic and singular personality, with a warm and colorful voice, Roula Safar crosses paths between the repertoires, styles and voices of poets of all ages and all ages. Deeply attached to poetry, the musicality of notes, words and ancient languages, alive, sometimes disappeared, subtly mix in the work of this artist-creator-interpreter.
She performs harmonies and arrangements of poems and songs: opera arias, melodies, sacred or profane songs, from medieval to baroque, from romantic to contemporary, accompanied by guitar and percussion, or capella. An original universe with universality.
Une personnalité charismatique et singulière, à la voix chaleureuse et colorée, Roula Safar sillonne les chemins de traverse entre les répertoires, les styles et les voix des poètes de toutes époques et de tous temps. Profondément attachée à la poésie, la musicalité des notes, des mots et des langues anciennes, vivantes, parfois disparues, se mêlent subtilement dans l'oeuvre de cette artiste-créatrice-interprète .
Elle réalise harmonisations et arrangements de poèmes et de chants: airs d'opéra, mélodies, chants sacrés ou profanes, du médiéval en passant par le baroque, du romantisme jusqu'au contemporain en s'accompagnant à la guitare et aux percussions ou bien à capella. Un univers original empreint d'universalité.
L'hymne à l'amitié a inspiré ce spectacle à Roula Safar Mezzo-Soprano et à Amin Elsaleh dramaturge en avant-première de son prochain opéra "La Justice Des Immortels". ---------------------------------------- Programme de l'événement - poèmes de Paul Valéry, de Mahmoud Darwich , poème soufi de Ibn Arabi , en français et en arabe , textes en suméro-akkadien et en araméen ancien, mis en musique par Florence Baschet, Thierry Machuel et Roula Safar - chants traditionnels byzantins, chants en araméen syriaque et chaldéen - improvisations de Stéphane Puc à l'accordéon et de Roula Safar, mezzo- soprano s'accompagnant de sa guitare et de ses percussions sur le texte de Amin El Saleh.
Réservation:http://www.billetreduc.com/182908/evt.htm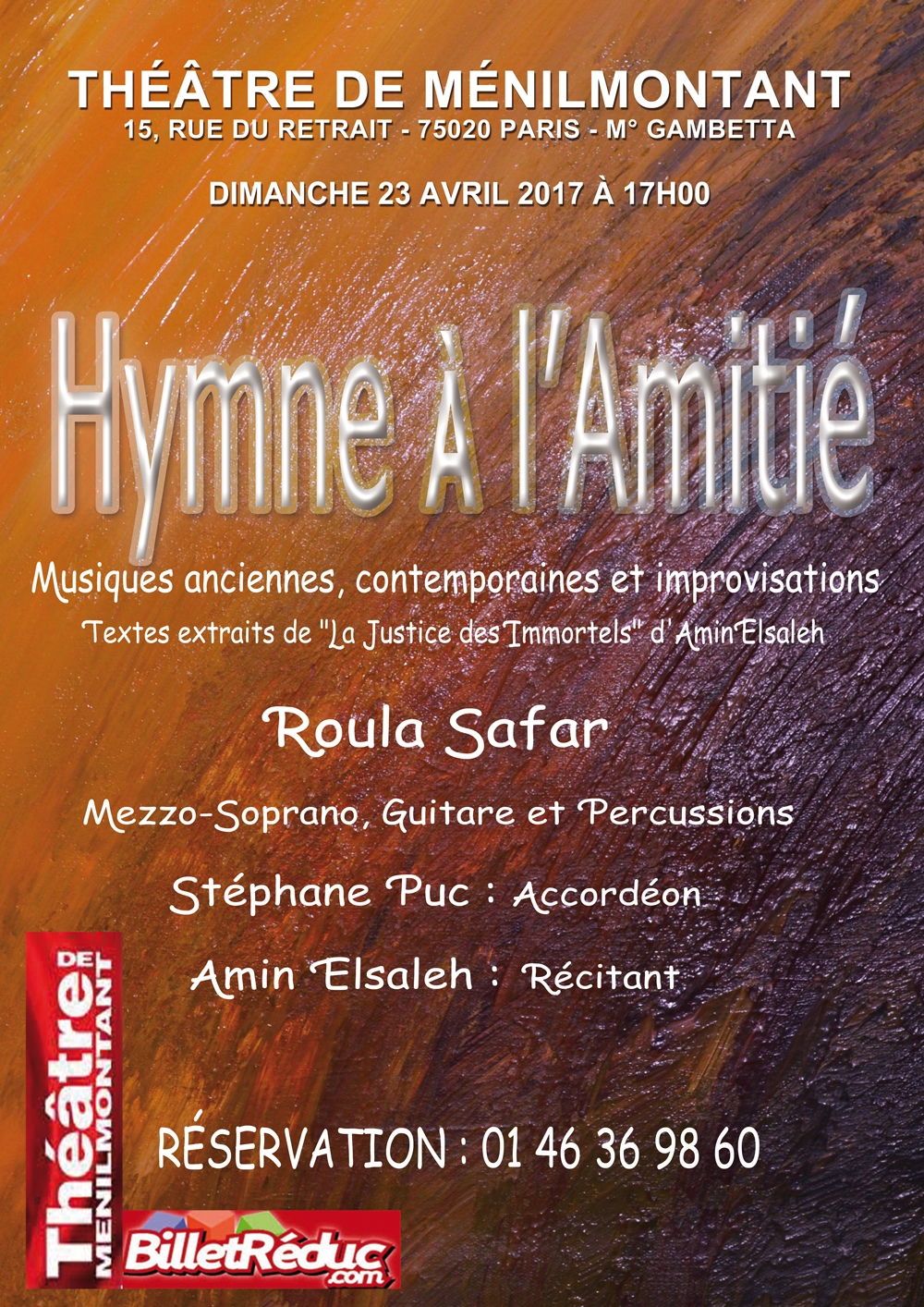 Préambule
J'ai sélectionné ce travail d'équipe parce qu'il porte les empreintes de Aek Abid dont la continuité apparait dans son ouvrage publié récemment sur le site culturel mlfcham, le lien est :
http://www.mlfcham.com/v1/index.php?option=com_content&view=article&id=1699:la-societe-future-par-kader-abid&catid=368:kader-abid&Itemid=2241
Voici les mots-clés dans ce document très précieux que vous trouverez dans ce travail d'équipe et qui démontrent continuité et convergence dans l'esprit de Aek Abid :
Recadrage, relations interpersonnelles, institutions politiques et démocratie ;
Cela nous ramène à cette conclusion : « « La disponibilité soudaine d'un savoir largement supérieur en propulsant notre pensée en avant sans le bénéfice d'une assimilation cohérente et progressive de toutes les étapes intermédiaires ayant amené ce résultat peut avoir des conséquences véritablement malheureuses (école de Palo Alto)». Le danger pour les pays arabes est de ne pas pouvoir s'intégrer dans une phase de transition entre la société actuelle et la société future, par manque de contribution de leurs élites dont le travail préparatoire est souligné dans ce document : il suffit de le lire puis de l'appliquer avant que ce soit trop tard.
Amin Elsaleh – 17/06/2018
CRASC Centre national de recherche en anthropologie sociale et culturelle
Division de recherche « socio anthropologie de l'éducation et des systèmes de formation »
Projet de recherche N°132/P.E/CRASC/11 du 01/07/11 au 30/06/2014
Equipe du Centre de Recherche Algérie CRASC
Axe de recherche

Chercheur

Méthodologies

- Enquêtes

- Focus

Ahmed Mokaddem

Enquête Professeurs Université

Hafida Kebbati

Focus Jeunes

Bouabdallah Kacemi Ahmed Mokaddem Aek Abid

Focus Entreprise

Aek Abid

Focus Femmes

Aek Abid

Focus Artistes Théâtre Cinéma

Aek Abid
INTITULE DE L' EXTRAIT DU RAPPORT FINAL :
Processus de développement du Monde Arabe
''Les élites arabes et leur rôles dans le développement''
Problématique
Le développement est une question vitale pour les pays « non encore développés » en particulier pour la majorité du Monde Arabe.
Toutefois, il faut auparavant lever un présupposé fort des Elites de ce Monde Arabe
En effet il y a
- celles qui présupposent que le Monde Arabe – surtout dans cette phase de globalisation – ne peut plus se développer.
- Et celles qui présupposent qu'il a encore une chance de se développer
Qui a raison ?
Notre présent travail s'inscrit dans le « courant optimiste » qui considère que
- Le Monde Arabe peut encore se développer sous réserve de….
Ce sont donc ces « réserves » que nous voulons approcher dont une : le rôle des Elites
« Rôle opératoire », nous recadrant ainsi sur leurs grandes problématiques et taches.
Voilà posé le cadre global et le recadrage de notre travail.
Read more...