L'interview sur radio MCD par l'animatrice Ghada Khalil:
https://www.mc-doualiya.com/programs/hot-coffe-mcd/20170422-%D8%B1%D9%88%D9%84%D8%A7-%D8%B3%D9%81%D8%B1-%D8%A3%D9%85%D9%8A%D9%86-%D8%A7%D9%84%D8%B5%D8%A7%D9%84%D8%AD-%D9%86%D8%B4%D9%8A%D8%AF-%D8%A7%D9%84%D8%B5%D8%AF%D8%A7%D9%82%D8%A9
NEW VERSION OF 23RD APRIL EVENT - PUBLISHED AT YOUTUBE TOO:
https://www.youtube.com/watch?v=4EqX8-HGkkQ
Hymne à l'Amitié : Musique ancienne contemporaine improvisation
Extrait de la représentation du 23 avril 2017
L'hymne à l'amitié a inspiré ce spectacle à Roula Safar Mezzo-Soprano et à Amin Elsaleh dramaturge en avant-première de son prochain opéra "La Justice Des Immortels".
----------------------------------------
Auteur : Roula Safar, #AminElsaleh, Stéphane Puc
Artistes : #RoulaSafar, #StéphanePuc
#MusiquesAnciennes, #Contemporaines et #Improvisations
----------------------------------------
#cultureparis  #festivalAvignon, #théâtresparisiens, #centresculturels,  #artetculture,  #fondationsculturelles, #france24, #mcd #mairiedeParis,  #laterrasse, #lacalade,  #théâtreodéon, #comédiefrançaise,  #fondationalliancefrance,  #AgaKhanMuseum, #theatredechaillot #theatrebouffesdunord, #maisondelaradio  #opera #TED #unesco #TEDx
Roula Safar :
=========
A charismatic and singular personality, with a warm and colorful voice, Roula Safar crosses paths between the repertoires, styles and voices of poets of all ages and all ages. Deeply attached to poetry, the musicality of notes, words and ancient languages, alive, sometimes disappeared, subtly mix in the work of this artist-creator-interpreter.
She performs harmonies and arrangements of poems and songs: opera arias, melodies, sacred or profane songs, from medieval to baroque, from romantic to contemporary, accompanied by guitar and percussion, or capella. An original universe with universality.
Une personnalité charismatique et singulière, à la voix chaleureuse et colorée, Roula Safar sillonne les chemins de traverse entre les répertoires, les styles et les voix des poètes de toutes époques et de tous temps. Profondément attachée à la poésie, la musicalité des notes, des mots et des langues anciennes, vivantes, parfois disparues, se mêlent subtilement dans l'oeuvre de cette artiste-créatrice-interprète .
Elle réalise harmonisations et arrangements de poèmes et de chants: airs d'opéra, mélodies, chants sacrés ou profanes, du médiéval en passant par le baroque, du romantisme jusqu'au contemporain en s'accompagnant à la guitare et aux percussions ou bien à capella. Un univers original empreint d'universalité.
L'hymne à l'amitié a inspiré ce spectacle à Roula Safar Mezzo-Soprano et à Amin Elsaleh dramaturge en avant-première de son prochain opéra "La Justice Des Immortels". ---------------------------------------- Programme de l'événement - poèmes de Paul Valéry, de Mahmoud Darwich , poème soufi de Ibn Arabi , en français et en arabe , textes en suméro-akkadien et en araméen ancien, mis en musique par Florence Baschet, Thierry Machuel et Roula Safar - chants traditionnels byzantins, chants en araméen syriaque et chaldéen - improvisations de Stéphane Puc à l'accordéon et de Roula Safar, mezzo- soprano s'accompagnant de sa guitare et de ses percussions sur le texte de Amin El Saleh.
Réservation:http://www.billetreduc.com/182908/evt.htm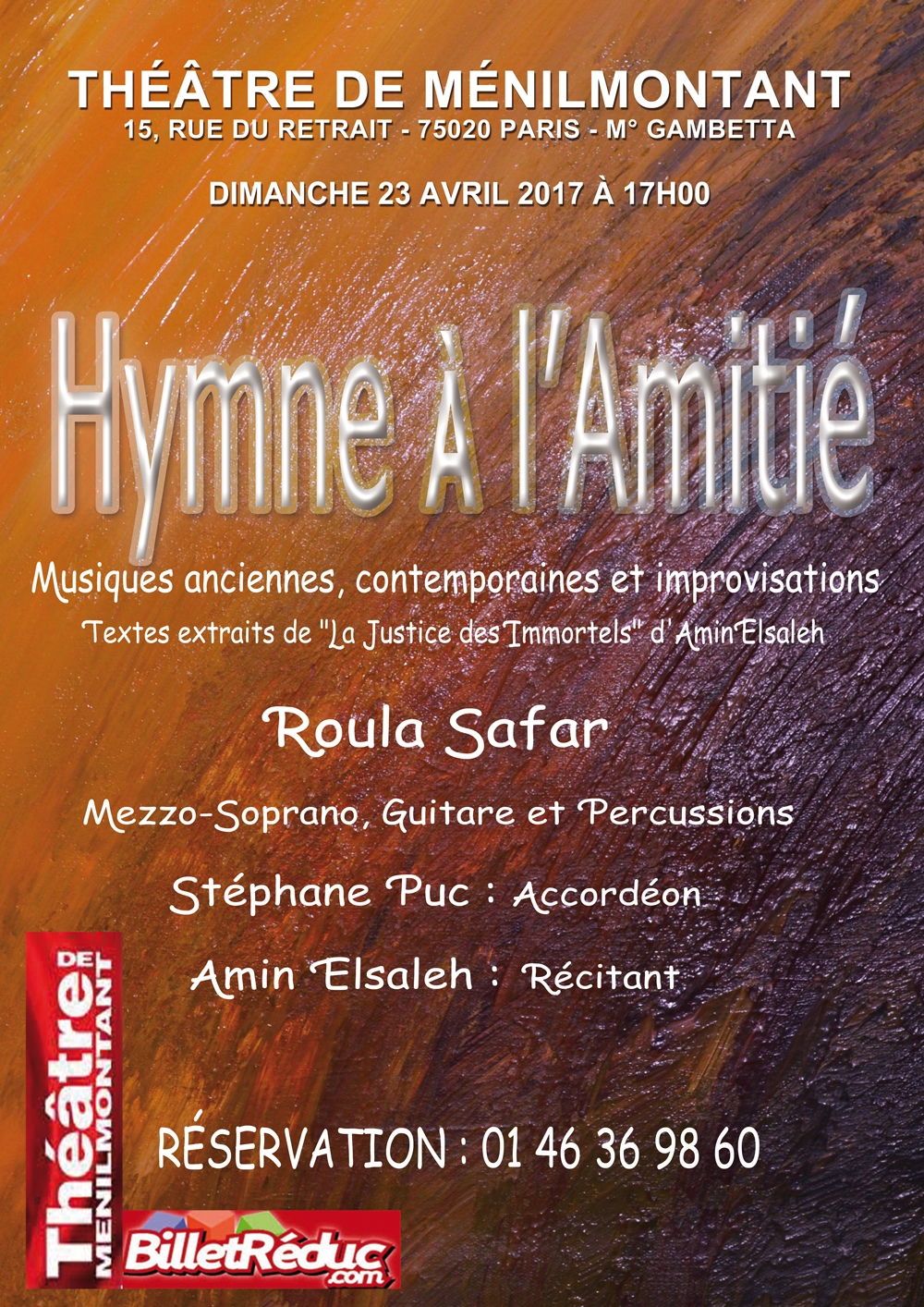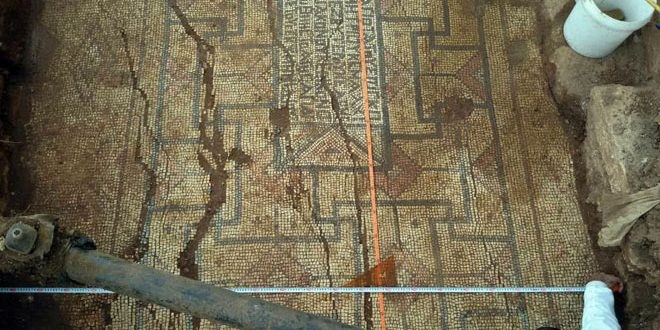 31/10/2018


Hama/Le Département des Antiquités de Hama a découvert une mosaïque datant du début du Ve siècle dans le village de Kharayeb dans la région de Salhab, à l'ouest de la ville de Hama  ( dans la région du Ghab et du jebel ansariyéh,  à la lisière de la zone d'idlib, elle  encore sous califat des divers clans d'ailleurs implacables rivaux ou au Nord,  de l'armée Turque  ou kurde  )


Le chef du Département des Antiquités, Abdel Qader Farzat, a déclaré au correspondant de SANA qu'un citoyen du village de Kharayeb, dans la banlieue ouest de Hama, avait trouvé dans le jardin de sa maison des parties d'un panneau en mosaïque et immédiatement informé les parties concernées.


Il a expliqué que le tableau est de 13,5×2,30 mètres de dimensions et comprend des décorations et des formes géométriques ainsi que des écrits en latin datant en son ensemble du Ve siècle, plus précisément à l'an 412. « Il s'agit d'un sol d'église qui remonte à la période byzantine », a-t-il ajouté.
Read more...