NEW VERSION OF 23RD APRIL EVENT - PUBLISHED AT YOUTUBE TOO:
https://www.youtube.com/watch?v=4EqX8-HGkkQ
Hymne à l'Amitié : Musique ancienne contemporaine improvisation
Extrait de la représentation du 23 avril 2017
L'hymne à l'amitié a inspiré ce spectacle à Roula Safar Mezzo-Soprano et à Amin Elsaleh dramaturge en avant-première de son prochain opéra "La Justice Des Immortels".
----------------------------------------
Auteur : Roula Safar, #AminElsaleh, Stéphane Puc
Artistes : #RoulaSafar, #StéphanePuc
#MusiquesAnciennes, #Contemporaines et #Improvisations
----------------------------------------
#cultureparis  #festivalAvignon, #théâtresparisiens, #centresculturels,  #artetculture,  #fondationsculturelles, #france24, #mcd #mairiedeParis,  #laterrasse, #lacalade,  #théâtreodéon, #comédiefrançaise,  #fondationalliancefrance,  #AgaKhanMuseum, #theatredechaillot #theatrebouffesdunord, #maisondelaradio  #opera #TED #unesco #TEDx
Roula Safar :
=========
A charismatic and singular personality, with a warm and colorful voice, Roula Safar crosses paths between the repertoires, styles and voices of poets of all ages and all ages. Deeply attached to poetry, the musicality of notes, words and ancient languages, alive, sometimes disappeared, subtly mix in the work of this artist-creator-interpreter.
She performs harmonies and arrangements of poems and songs: opera arias, melodies, sacred or profane songs, from medieval to baroque, from romantic to contemporary, accompanied by guitar and percussion, or capella. An original universe with universality.
Une personnalité charismatique et singulière, à la voix chaleureuse et colorée, Roula Safar sillonne les chemins de traverse entre les répertoires, les styles et les voix des poètes de toutes époques et de tous temps. Profondément attachée à la poésie, la musicalité des notes, des mots et des langues anciennes, vivantes, parfois disparues, se mêlent subtilement dans l'oeuvre de cette artiste-créatrice-interprète .
Elle réalise harmonisations et arrangements de poèmes et de chants: airs d'opéra, mélodies, chants sacrés ou profanes, du médiéval en passant par le baroque, du romantisme jusqu'au contemporain en s'accompagnant à la guitare et aux percussions ou bien à capella. Un univers original empreint d'universalité.
L'hymne à l'amitié a inspiré ce spectacle à Roula Safar Mezzo-Soprano et à Amin Elsaleh dramaturge en avant-première de son prochain opéra "La Justice Des Immortels". ---------------------------------------- Programme de l'événement - poèmes de Paul Valéry, de Mahmoud Darwich , poème soufi de Ibn Arabi , en français et en arabe , textes en suméro-akkadien et en araméen ancien, mis en musique par Florence Baschet, Thierry Machuel et Roula Safar - chants traditionnels byzantins, chants en araméen syriaque et chaldéen - improvisations de Stéphane Puc à l'accordéon et de Roula Safar, mezzo- soprano s'accompagnant de sa guitare et de ses percussions sur le texte de Amin El Saleh.
Réservation:http://www.billetreduc.com/182908/evt.htm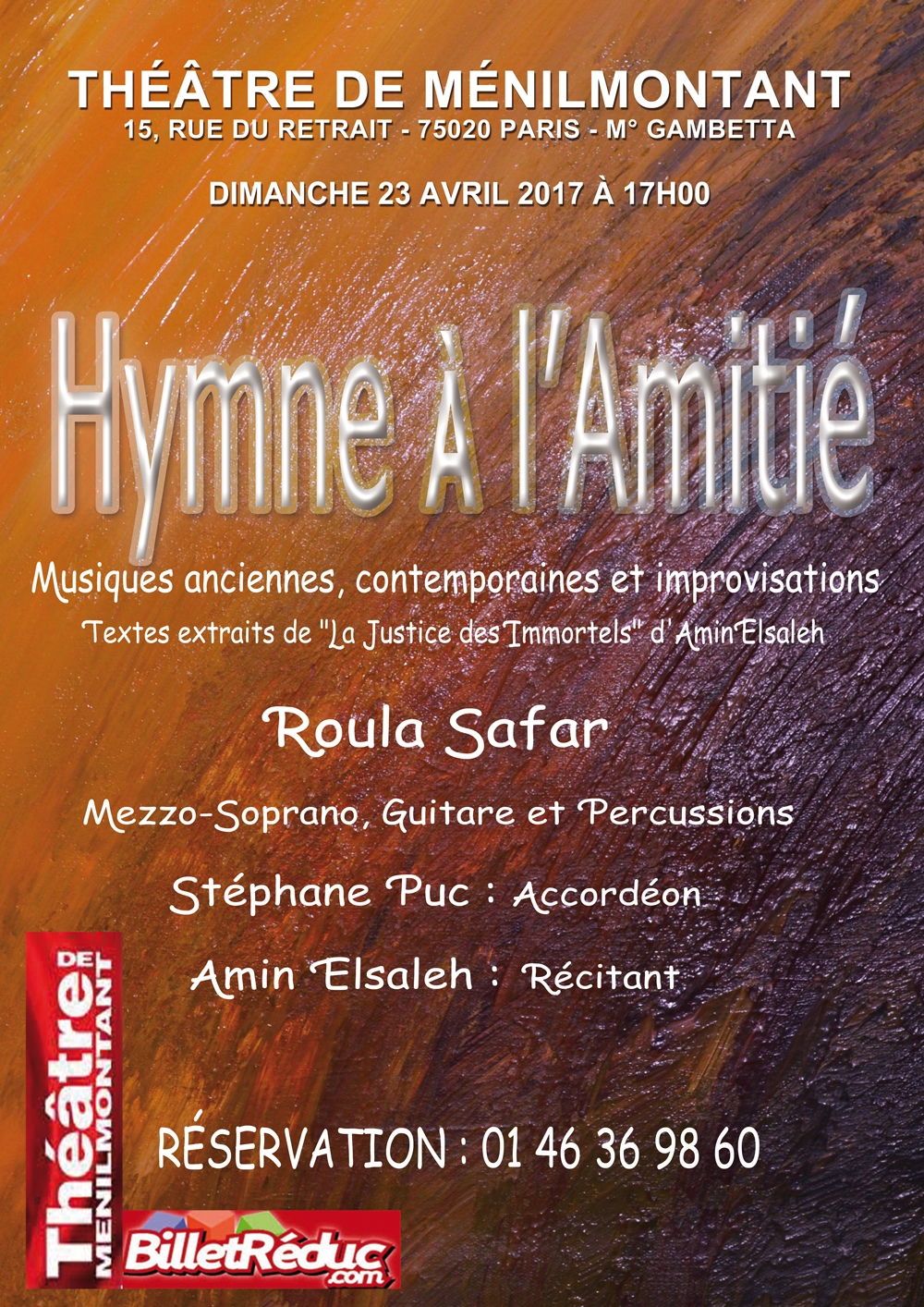 COMITE ARABE/ARAB COMMITTEE EURODRAM PALMARES 2018
Le Comité Arabe du réseau Eurodram a arrêté son palmarès 2017-2018 consacré cette année à des textes écrits en arabe. Parmi les 11 pièces reçues, ses choix se sont portés, au terme d'une évaluation détaillée de chaque pièce sur : The Arab Committee of the Eurodram network has finalized its 2017-2018 prize list devoted this year to texts written in Arabic. Among the 11 plays received, his choices was made, after a detailed evaluation of each piece on:
Dix scènes pas trop violente de Omar AL-JIBAII/ Ten scenes not too violent
عشرة مشاهد ليست عنيفة كما يجب (تأليف: عمر الجباعي)
Le Dîner des aveugles/Blind dinner d'Anouar Abdul MOUGHITH " عشا العميان " لـ : أنور عبد المغيث
CHATEAU DE SEL/SALT CASTLE d'ANNA AKKASH قلعة ملح Ex aequo
GANGRENE/GANGRENE de WADIAA FERZALI غرغرينا
Ces quatre pièces sont donc retenues pour être recommandées aux traducteurs depuis l'Arabe en vue de leur production ou de leur édition hors frontière.
These four plays are therefore selected to be recommended to translators from the Arabian for their production or their publishing outside the borders.
Les autres pièces qui ont acquis une évaluation positive sont
Other plays that have gained a positive rating are:
Al-SAYYED TAMAM de NAGAH ABDULNOUR السيد تمام
ANA ALQUDS de NASSER OMAR أنا القدس
DES HOMMES SOUS LE SOLEIL/MEN IN THE SUN/ de RAED ALCHIOUKHI رجال في الشمس
UNE EXCURSSION DANS LA SOUFFRANCE/ EXCURSION IN SUFFERING de TAMER KAMEL رحلة عذاب
Ces textes nous ont été proposés pour l'essentiel par leurs auteurs. Avec leur autorisation, nous serons très heureux de vous faire suivre leur manuscrit et de vous communiquer leurs coordonnées numériques.
These texts have been proposed to us essentially by their authors. With their permission, we will be very happy to have you follow their manuscript and give you their digital coordinates.
إعلان النتائج؛ بعد تقييم المسرحيات التالية:١ـ عشاء العميان تأليف أنور عبد المغيث ٢ـ السيد تمام تأليف نجاح عبد النور ٣ـ أنا القدس تأليف ناصر عمر ٤ـ رجال في الشمس تأليف رائد الشيوخي ٥ـ قلعة ملح تأليف آنّا عكّاش ٦ـ غرغرينا تأليف وديعة فرزلي ٧ـ عشرة مشاهد ليست عنيفة كما يجب تأليف عمر الجباعي ٨ـ رحلة عذاب تأليف تامر كامل ٩ـ في حالي تأليف رائد الشيوخي١٠ـ المسرحية تأليف عادل عبد الوهاب ١١ـ أمل تأليف ألمى أبو فخر؛ الأربع مسرحيات الفائزة هي: عشرة مشاهد ليست عنيفة كما يجب؛ عشاء العميان؛ قلعة ملح، غرغرينا٠ اللجنة بانتظار أربعاً من أعضاء اللجنة للقيام بالترجمة دون تعويض مالي علماً بأني على استعداد لمساعدة من يقوم بالترجمة إلى الفرنسية و البحث عن مسرح باريسي يتم فيه إلقاء مقتطفات باللغتين العربية والفرنسية؛ مع الشكر الجزيل للمقيمين وبشكل خاص لمارجريت مطر ولكريستيل خوري٠ أمين الصالح