NEW VERSION OF 23RD APRIL EVENT - PUBLISHED AT YOUTUBE TOO:
https://www.youtube.com/watch?v=4EqX8-HGkkQ
Hymne à l'Amitié : Musique ancienne contemporaine improvisation
Extrait de la représentation du 23 avril 2017
L'hymne à l'amitié a inspiré ce spectacle à Roula Safar Mezzo-Soprano et à Amin Elsaleh dramaturge en avant-première de son prochain opéra "La Justice Des Immortels".
----------------------------------------
Auteur : Roula Safar, #AminElsaleh, Stéphane Puc
Artistes : #RoulaSafar, #StéphanePuc
#MusiquesAnciennes, #Contemporaines et #Improvisations
----------------------------------------
#cultureparis  #festivalAvignon, #théâtresparisiens, #centresculturels,  #artetculture,  #fondationsculturelles, #france24, #mcd #mairiedeParis,  #laterrasse, #lacalade,  #théâtreodéon, #comédiefrançaise,  #fondationalliancefrance,  #AgaKhanMuseum, #theatredechaillot #theatrebouffesdunord, #maisondelaradio  #opera #TED #unesco #TEDx
Roula Safar :
=========
A charismatic and singular personality, with a warm and colorful voice, Roula Safar crosses paths between the repertoires, styles and voices of poets of all ages and all ages. Deeply attached to poetry, the musicality of notes, words and ancient languages, alive, sometimes disappeared, subtly mix in the work of this artist-creator-interpreter.
She performs harmonies and arrangements of poems and songs: opera arias, melodies, sacred or profane songs, from medieval to baroque, from romantic to contemporary, accompanied by guitar and percussion, or capella. An original universe with universality.
Une personnalité charismatique et singulière, à la voix chaleureuse et colorée, Roula Safar sillonne les chemins de traverse entre les répertoires, les styles et les voix des poètes de toutes époques et de tous temps. Profondément attachée à la poésie, la musicalité des notes, des mots et des langues anciennes, vivantes, parfois disparues, se mêlent subtilement dans l'oeuvre de cette artiste-créatrice-interprète .
Elle réalise harmonisations et arrangements de poèmes et de chants: airs d'opéra, mélodies, chants sacrés ou profanes, du médiéval en passant par le baroque, du romantisme jusqu'au contemporain en s'accompagnant à la guitare et aux percussions ou bien à capella. Un univers original empreint d'universalité.
L'hymne à l'amitié a inspiré ce spectacle à Roula Safar Mezzo-Soprano et à Amin Elsaleh dramaturge en avant-première de son prochain opéra "La Justice Des Immortels". ---------------------------------------- Programme de l'événement - poèmes de Paul Valéry, de Mahmoud Darwich , poème soufi de Ibn Arabi , en français et en arabe , textes en suméro-akkadien et en araméen ancien, mis en musique par Florence Baschet, Thierry Machuel et Roula Safar - chants traditionnels byzantins, chants en araméen syriaque et chaldéen - improvisations de Stéphane Puc à l'accordéon et de Roula Safar, mezzo- soprano s'accompagnant de sa guitare et de ses percussions sur le texte de Amin El Saleh.
Réservation:http://www.billetreduc.com/182908/evt.htm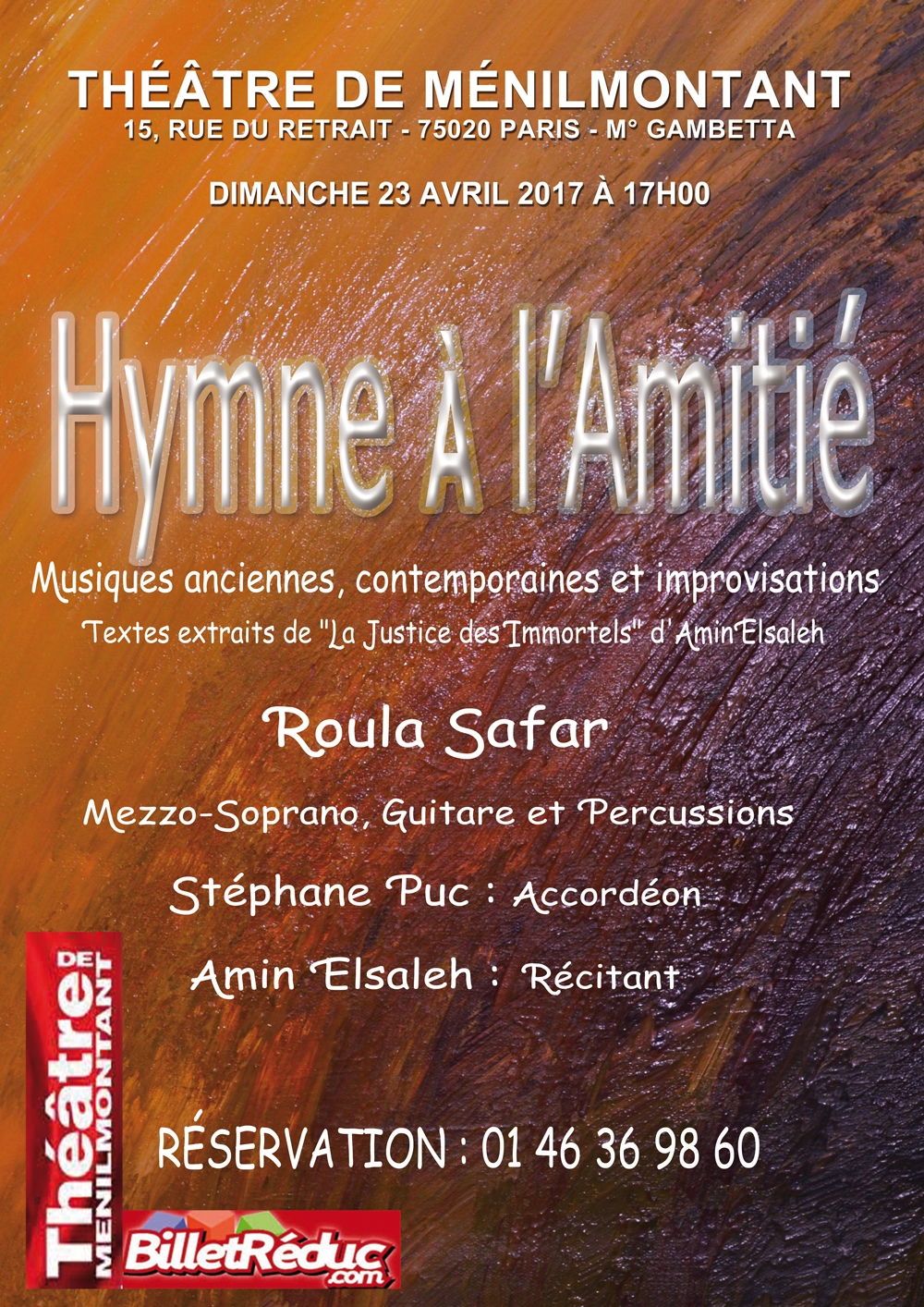 CRITIQUE DE LA PIECE D'AMIN ELSALEH : ETRANGE
DECOUVERTE[i] par SAZDEL YASSINE[ii]
Je fais toujours confiance à mes premières impressions : lisant simplement une seule fois , ETRANGE DECOUVERTE[iii], j'ai été prise dans un "infernal tourbillon" et jai vecu les "hallucinations , le cauchemar " de son auteur, j'ai partagé " la projection de son âme "…
Encore une fois , ce n'est pas une pièce de théâtre au sens propre du mot mais une suite de scènes incohérentes , tragiques et macabres où des personnages compliqués , "fantomatiques" paraîssent, disparaissent, vivent , meurent, se dédoublent dans un milieu lourd et épais de "brouillard", et où l'action a lieu dans un site inconnu, incertain : tantôt ville, tantôt village, tantôt villa, tantôt ruines, tantôt plage…
On est confronté à l'imaginaire qui se mêle à la réalité, à la poésie, à la cruauté, a l'idéalisme, bref à un monde fou et absurde… On pénètre dans la conscience et le subconscient des personnages qui sont à la fois absurdes et tout a fait logiques…
Le lecteur est pris du "vertige terrible d'un chaos "et a hâte de se réveiller…Il veut a tout prix, "fuir, mais ne trouve ni porte d'entrée , ni porte de sortie " il est pratiquement " coincé "…"
ETRANGE DECOUVERTE découvre les atrocités de la guerre et ses repercussions sur l'humanité : femmes, hommes, enfants, orphelins… N'ayant ni temps, ni espace, elle a une forte " puissance prémonitoire "…si l'on pense au Moyen-Orient et particulierement a la Syrie… Elle cache un sens politique : l'auteur l'a-t-il écrite en Syrie ? Avait-il un pressentiment quelconque ?
Et malgre son pessimisme, elle renferme un "brin d'espoir", " un rayon d'optimisme" symbolisé par la Fée, l'Enfant et l'Aigle… Elle me rappelle "etrangement" de Beckett et de Ionesco… Et à l'opposé de Meurtsault d'Albert Camus , AMIN ELSALEH, tel que je le connais, ne renonce jamais à son "optimisme" , à l'Humanite et rêve "de reconstruire les cités détruites par la bêtise de certains ".
Sazdel A. Yassine                                 Le 14 Juillet 2017