NEW VERSION OF 23RD APRIL EVENT - PUBLISHED AT YOUTUBE TOO:
https://www.youtube.com/watch?v=4EqX8-HGkkQ
Hymne à l'Amitié : Musique ancienne contemporaine improvisation
Extrait de la représentation du 23 avril 2017
L'hymne à l'amitié a inspiré ce spectacle à Roula Safar Mezzo-Soprano et à Amin Elsaleh dramaturge en avant-première de son prochain opéra "La Justice Des Immortels".
----------------------------------------
Auteur : Roula Safar, #AminElsaleh, Stéphane Puc
Artistes : #RoulaSafar, #StéphanePuc
#MusiquesAnciennes, #Contemporaines et #Improvisations
----------------------------------------
#cultureparis  #festivalAvignon, #théâtresparisiens, #centresculturels,  #artetculture,  #fondationsculturelles, #france24, #mcd #mairiedeParis,  #laterrasse, #lacalade,  #théâtreodéon, #comédiefrançaise,  #fondationalliancefrance,  #AgaKhanMuseum, #theatredechaillot #theatrebouffesdunord, #maisondelaradio  #opera #TED #unesco #TEDx
Roula Safar :
=========
A charismatic and singular personality, with a warm and colorful voice, Roula Safar crosses paths between the repertoires, styles and voices of poets of all ages and all ages. Deeply attached to poetry, the musicality of notes, words and ancient languages, alive, sometimes disappeared, subtly mix in the work of this artist-creator-interpreter.
She performs harmonies and arrangements of poems and songs: opera arias, melodies, sacred or profane songs, from medieval to baroque, from romantic to contemporary, accompanied by guitar and percussion, or capella. An original universe with universality.
Une personnalité charismatique et singulière, à la voix chaleureuse et colorée, Roula Safar sillonne les chemins de traverse entre les répertoires, les styles et les voix des poètes de toutes époques et de tous temps. Profondément attachée à la poésie, la musicalité des notes, des mots et des langues anciennes, vivantes, parfois disparues, se mêlent subtilement dans l'oeuvre de cette artiste-créatrice-interprète .
Elle réalise harmonisations et arrangements de poèmes et de chants: airs d'opéra, mélodies, chants sacrés ou profanes, du médiéval en passant par le baroque, du romantisme jusqu'au contemporain en s'accompagnant à la guitare et aux percussions ou bien à capella. Un univers original empreint d'universalité.
L'hymne à l'amitié a inspiré ce spectacle à Roula Safar Mezzo-Soprano et à Amin Elsaleh dramaturge en avant-première de son prochain opéra "La Justice Des Immortels". ---------------------------------------- Programme de l'événement - poèmes de Paul Valéry, de Mahmoud Darwich , poème soufi de Ibn Arabi , en français et en arabe , textes en suméro-akkadien et en araméen ancien, mis en musique par Florence Baschet, Thierry Machuel et Roula Safar - chants traditionnels byzantins, chants en araméen syriaque et chaldéen - improvisations de Stéphane Puc à l'accordéon et de Roula Safar, mezzo- soprano s'accompagnant de sa guitare et de ses percussions sur le texte de Amin El Saleh.
Réservation:http://www.billetreduc.com/182908/evt.htm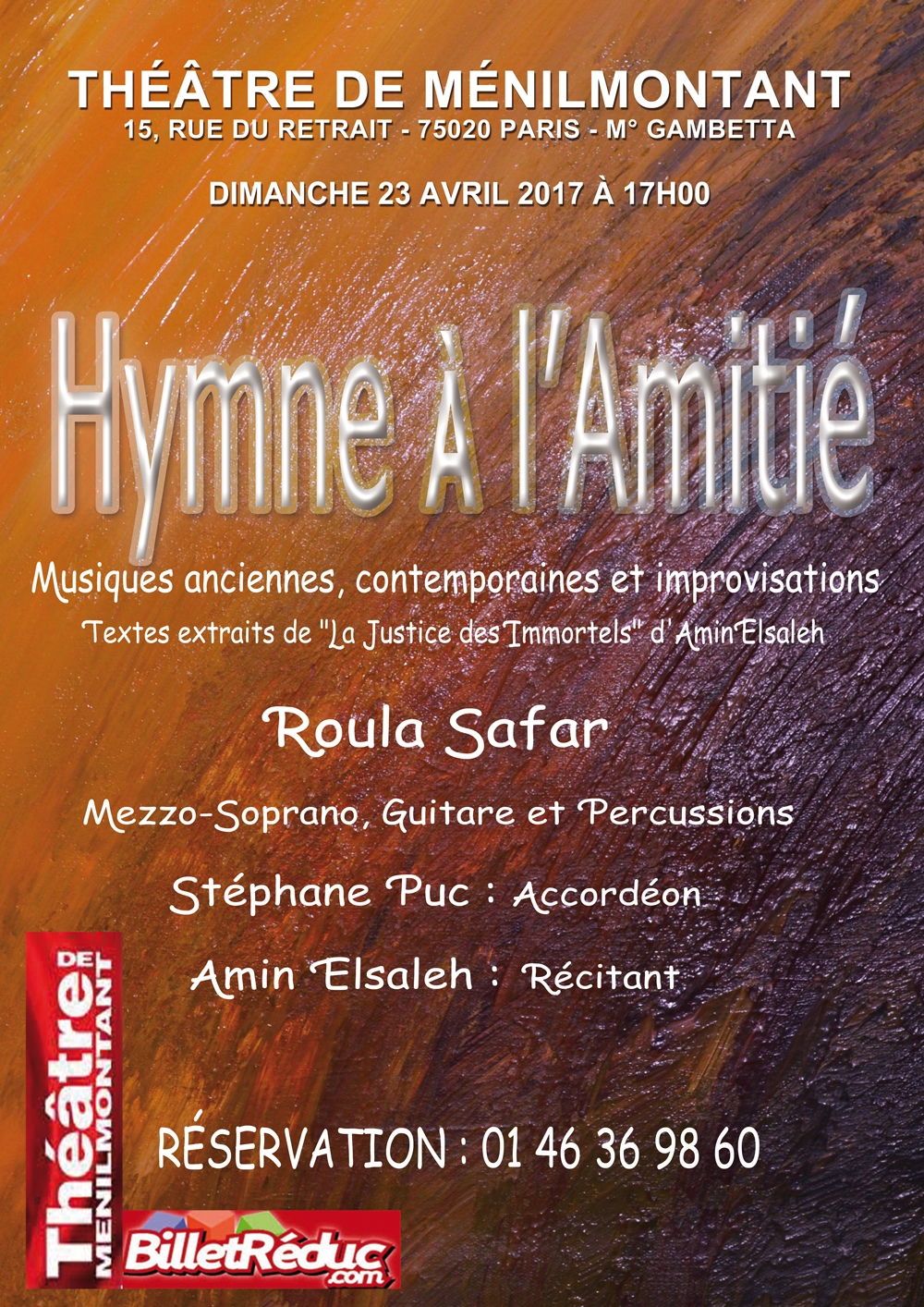 Vous pouvez trouver l'ensemble des contributions d'Amin Elsaleh sur le site academia à l'adresse:
https://independent.academia.edu/AminElsaleh
My Short Analysis of Missile Attacks on Golan Heights Earlier This Week by Imad F Abdullah, May 12, 2018
With missiles dropping on Israel Monday night and the retaliation that followed, it could have been War with no bounds. Being an unprecedented event, how was it limited and contained so quickly?
One can trace events with some visioning and get to some conclusions on how this was achieved:
After Israeli missiles killed Iranians in Syria a few weeks back, Iran made it clear it will retaliate. Iran wisely chose the timing to be after the inauguration of President Putin for a new term. Iran would have briefed Russia about the upcoming hit beforehand, but maybe only few days before the exact timing.
Containment would have started immediately to prevent a much wider conflict involving great powers. As the US would have been briefed, President Trump advanced the announcement about the US withdrawal from the Nuclear Agreement with Iran from May 12 to Monday May 7 at 2 pm, less than 12 hours before the hit and in what may be perceived as an intention to restrain Iran.
Earlier on Monday morning several high ranking Israeli military officials threatened to kill Assad and some suggested forcefully to assassinate him, a most unusual tactic in today's world. This was obviously a scare tactic to get Assad to hold back.
At the same time, Netanyahu asked and flew to Moscow to meet Putin the day after the inauguration and according to news reports he was not invited. He would have asked Russia to restrain Iran and if not, to get permission to hit deep but it looks like it wasn't granted.
The US and Russia must have made it clear to all parties they do not want a wider conflict and this must be contained to a very limited action, and is being allowed only to diffuse anger on both sides.
One would assume Russia cautioned against Israeli planes flying over Syria or hitting civilian targets. The same advice would have been given to Iran and the missiles on both sides hit only military targets.  Both sides claimed success of their mission but there is no third-party reporting from Satellites that blanket the area. No reporters yet on the scenes filming damage and no pictures, only reports by third parties here and there although it's been several days now.
The US media downplayed the events and did not report them until several hours after the international media aired the news. Maybe they were directly asked, and the news was timid with only few commentators doing analysis. The US public is not to be alarmed.
The price of Gold remained stable, Oil has been going up for a few weeks and maybe by some already in the know, but all the perennial talk about the vulnerability of the Arabian Gulf Region Petrochemical installations did not materialize nor did it effect the financial markets.
Both Israel and Iran now say they will go no further. Netanyahu cannot afford any kind of setback, and Iran needs to maintain world goodwill against the upcoming US sanctions.
The US did not want American Fighter planes to be hit by missiles, bad for future sales. Russia did not want a wider conflict as there would be no winners.
Lebanon just finished elections and remains quite precarious, no need to flare up the South. And as far as Turkey, NATO is not sure if Erdogan will oblige with falling currency and all the floating cards he juggles.
Out of a potentially disastrous situation comes the good news: if future conflicts can be contained so quickly and professionally, the world will be a much safer place.
I- Where to from "Sykes-Picot"
Imad F Abdullah, July 21, 2016
Years ago a friend of mine showed me a money coin minted in Jerusalem in 1915 with the inscription "Jerusalem, Syria" (in Arabic).
Read more...