NEW VERSION OF 23RD APRIL EVENT - PUBLISHED AT YOUTUBE TOO:
https://www.youtube.com/watch?v=4EqX8-HGkkQ
Hymne à l'Amitié : Musique ancienne contemporaine improvisation
Extrait de la représentation du 23 avril 2017
L'hymne à l'amitié a inspiré ce spectacle à Roula Safar Mezzo-Soprano et à Amin Elsaleh dramaturge en avant-première de son prochain opéra "La Justice Des Immortels".
----------------------------------------
Auteur : Roula Safar, #AminElsaleh, Stéphane Puc
Artistes : #RoulaSafar, #StéphanePuc
#MusiquesAnciennes, #Contemporaines et #Improvisations
----------------------------------------
#cultureparis  #festivalAvignon, #théâtresparisiens, #centresculturels,  #artetculture,  #fondationsculturelles, #france24, #mcd #mairiedeParis,  #laterrasse, #lacalade,  #théâtreodéon, #comédiefrançaise,  #fondationalliancefrance,  #AgaKhanMuseum, #theatredechaillot #theatrebouffesdunord, #maisondelaradio  #opera #TED #unesco #TEDx
Roula Safar :
=========
A charismatic and singular personality, with a warm and colorful voice, Roula Safar crosses paths between the repertoires, styles and voices of poets of all ages and all ages. Deeply attached to poetry, the musicality of notes, words and ancient languages, alive, sometimes disappeared, subtly mix in the work of this artist-creator-interpreter.
She performs harmonies and arrangements of poems and songs: opera arias, melodies, sacred or profane songs, from medieval to baroque, from romantic to contemporary, accompanied by guitar and percussion, or capella. An original universe with universality.
Une personnalité charismatique et singulière, à la voix chaleureuse et colorée, Roula Safar sillonne les chemins de traverse entre les répertoires, les styles et les voix des poètes de toutes époques et de tous temps. Profondément attachée à la poésie, la musicalité des notes, des mots et des langues anciennes, vivantes, parfois disparues, se mêlent subtilement dans l'oeuvre de cette artiste-créatrice-interprète .
Elle réalise harmonisations et arrangements de poèmes et de chants: airs d'opéra, mélodies, chants sacrés ou profanes, du médiéval en passant par le baroque, du romantisme jusqu'au contemporain en s'accompagnant à la guitare et aux percussions ou bien à capella. Un univers original empreint d'universalité.
L'hymne à l'amitié a inspiré ce spectacle à Roula Safar Mezzo-Soprano et à Amin Elsaleh dramaturge en avant-première de son prochain opéra "La Justice Des Immortels". ---------------------------------------- Programme de l'événement - poèmes de Paul Valéry, de Mahmoud Darwich , poème soufi de Ibn Arabi , en français et en arabe , textes en suméro-akkadien et en araméen ancien, mis en musique par Florence Baschet, Thierry Machuel et Roula Safar - chants traditionnels byzantins, chants en araméen syriaque et chaldéen - improvisations de Stéphane Puc à l'accordéon et de Roula Safar, mezzo- soprano s'accompagnant de sa guitare et de ses percussions sur le texte de Amin El Saleh.
Réservation:http://www.billetreduc.com/182908/evt.htm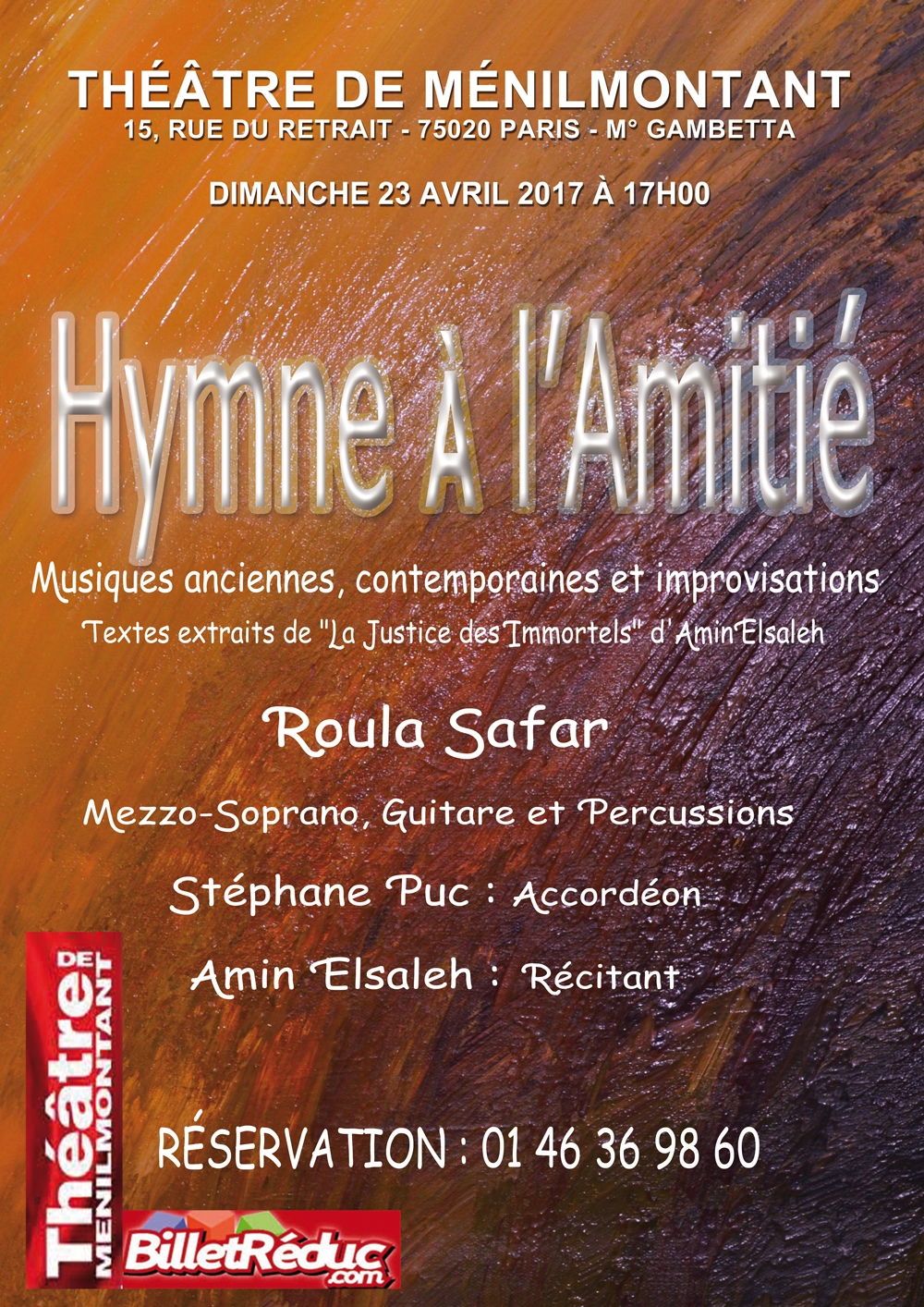 Syrie des villes et Syrie des champs, ET encore
Syrie bédouine
un amour trop souvent... meurtrier...
Syrie bédouine, tant parcourue et tant aimée, racontée sous toutes ses formes, et au joli temps des Mandats mais déjà bien avant...
...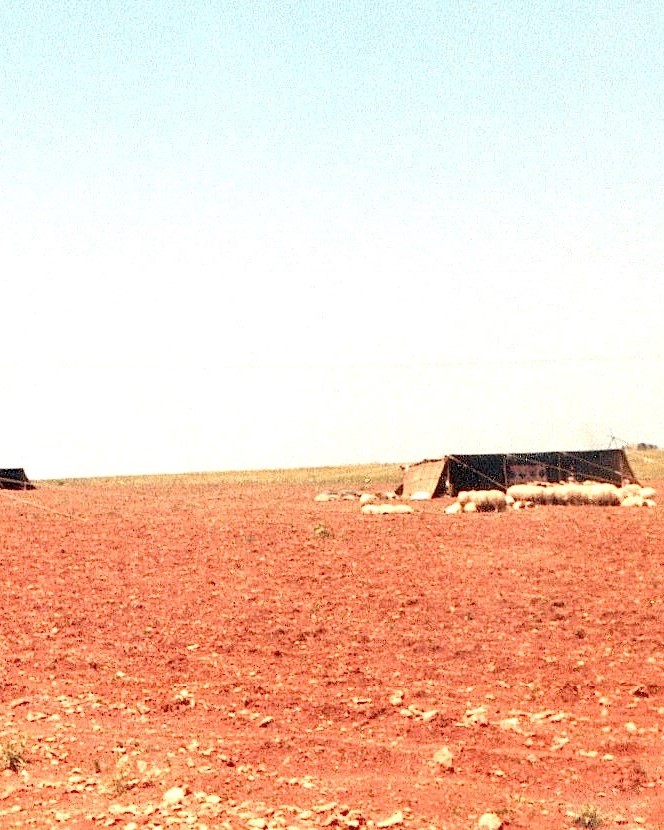 Dans la steppe Syrienne
ET Syrie au coeur... de l'information-désinformation, manipulation, mais aussi, ré-information
Syrie entre désinformation et réinformation...
Depuis toutes ces longues et terribles dernières six années, les nouvelles qui, dans les médias ou sur la Toile, nous parlent de la Syrie sont surtout, hélas, de ces combats qui, jour après jour, meurtrissent inexorablement le pays.
Information, désinformation, réinformation, manipulation ...Sans trève, elles cohabitent...Pour s'y retrouver dans ce flot continu de faits où même les plus avertis, les meilleurs et vrais analystes du pays parfois hésitent à retrouver la vérité, il nous est, quand même, possible de nous rendre sur des sites d'information repérés dès le début. Reconnus pour leur fiabilité, et de quelques vrais connaisseurs de la région, de ceux et de ceux qui décodent aussi, ils essaient de rendre compte, inlassablement, de ce qui se passe vraiment entre Méditerranée aux rives de l'Euphrate, des Monts du Taurus au Golan et de ses cimes toujours enneigées du Jebel ash Sheikh.
Ce sont informations d'experts de vrais amoureux de la Syrie, mais qui eux sont ignorés des médias qui, depuis toutes ces années de leur désinformation sur la Syrie, leur refusent l'accès à leurs
-2-
plateaux ou à leurs pages « International». La Syrie pourtant est bien leur pays. Ils y résident toujours ou ils l'ont quittée de leur plein gré ou en sont, ces temps, éloignés pour un exil qu'ils espèrent provisoire. D'autres y séjourné pour certains, pour raisons d'études, de travail, de recherches ou par simple goût de la découverte. ils ont acquis une bonne connaissance du terrain, ont appris à bien connaître toute la région et son environnement le plus large, comme sa très longue histoire. Ils ont essayé patiemment de s'y retouver dans la diversité de la société. lls sont en contact permanent avec les proches restés au pays, ont écumé les sites de la Toile, travaillent sans relâche pour dénicher l'info vraie, la bonne localisation, l'explication plausible, la thèse vraisemblable et celle qui pose question. C'est celles qu'il faut alors commenter, expliquer ou celles pour qui faut se résoudre à ajouter des points : points d'interrogation ou de suspension !
Les nouvelles transmises, le plus souvent hélas, situent détaillent, expliquent des terribles combats qui meurtrissent les grandes villes, défigurent la côte, saccagent les rives de l'Oronte ou de l'Euphrate : des informations qui nous arrivent heure par heure mais ne se ressemblent presque jamais.
Mort sur l'Euphrate,
Cliquez-ici pour télécharger le document pdf