Written by Le Monde Informatique
Wednesday, 28 September 2011 15:53
Edition du 27/09/2011
Lors de la présentation de son dernier processeur Sparc T4, Oracle en a profité pour dévoiler un serveur très haut de gamme qui viendra concurrencer les plates-formes Unix de Hewlett-Packard et d'IBM.
Comme à son habitude, Larry Ellison s'est montré particulièrement fougueux quand il est monté sur scène au siège d'Oracle pour annoncer ses produits. Il a commis plusieurs saillies qui ont fait rire la salle et indiqué qu'il est « impatient » de démarcher les clients d'IBM.


Le T4 est la dernière addition à la famille de processeurs Sparc développée par Sun Microsystems, qu'Oracle a acquis l'année dernière. Cette puce possède huit coeurs par processeur contre 16 pour le T3, mais chaque coeur fonctionne jusqu'à 3 GHz contre 1,65 GHz seulement pour le T3. Selon le CEO d'Oracle, cela donne au T4 des performances mono-thread cinq fois supérieures à son prédécesseur. Le Sparc T4 est disponible dès maintenant dans les serveurs lame et rack (de 16 000 à 160 000 $). Il sera également utilisé dans le Sparc SuperCluster T4-4, un système haut de gamme qui emmènera jusqu'à 128 coeurs dans un seul système de la taille d'un serveur rack.
Une plate-forme commune à Exadata

Oracle ne donne pas encore de tarif pour son SuperCluster dont il avait déjà commencé à parler l'année dernière. Pas de date de livraison ferme non plus, bien que John Fowler, vice-président exécutif d'Oracle Systems Group, a déclaré dans une interview à nos confrères d'IDG News Service que la machine sera disponible d'ici la fin de l'année. Sur certains points, elle sera similaire aux serveurs dédiés Exadata Database et Exalogic Elastic Cloud. Dans les trois cas, Oracle affirme qu'il a énormément travaillé sur les briques serveur, stockage et réseau pour optimiser les performances, et intégré ses logiciels sur ces plates-formes.

Mais alors que le système Exalogic participe à la bataille du middleware et que la machine Exadata se destine au marché de l'entreposage de données et du traitement transactionnel en ligne, le Sparc SuperCluster T4-4 a été conçu pour répondre aux besoins de l'informatique générale, y compris les applications standard de planification des ressources.

Jusqu'à 1024 coeurs avec huit racks

Le super serveur d'Oracle repose sur quatre noeuds de serveur Sparc T4, chacun avec quatre sockets pouvant accueillir des puces huit coeurs à 3 GHz, des commutateurs Infiniband, des systèmes de stockage ZFS, et une plate-forme Exadata. Il peut être acheté dans une configuration demi-rack , ou comme un rack complet avec 4 To de mémoire DRAM et jusqu'à 198 To d'espace de stockage. Jusqu'à huit racks (1024 coeurs donc) peuvent être reliés entre eux avec une image système unique, a encore précisé Larry Ellison,  « C'est une machine très importante ».

Illustration principale : Sparc SuperCluster T4-4 d'Oracle
Certains des composants du SuperCluster semblent se chevaucher avec ceux de la machine Exadata Database. Mais ce serveur haut de gamme sera moins spécialisé dans le stockage de bases de données et proposera plus d'espace de stockage standard à la place. La puissance de calcul disponible sera également plus conséquente. « Vous pourrez ajouter plusieurs briques de stockage Exadata dans un rack en quelques secondes si vous le souhaitez ... mais le rack d'origine sera toujours moins équipé qu'un système Exadata pour favoriser le stockage général, l'objectif est de proposer une machine destinée à un usage plus général», a déclaré John Fowler (voir illustration ci-dessous) lors d'un interview avec nos confrères d'IDG News Service.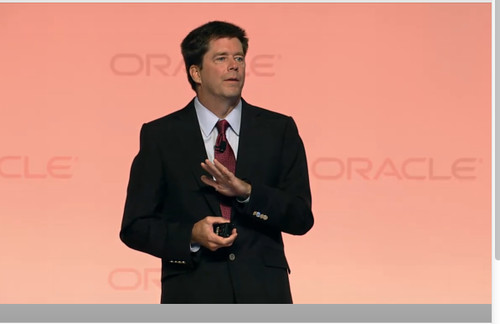 "Si vous allez juste travailler avec la base de données Oracle 11, Exadata est définitivement le produit qu'il vous faut. ... Mais si vous voulez exécuter PeopleSoft ou SAP ou des applications développées en interne dans le même cluster, vous pourrez le faire avec le SuperCluster, mais pas avec [la machine Exadata Database] », a-t-il dit. «C'est la façon la plus simple de souligner les différences ».

La compétition avec IBM est lancée

Larry Ellison a déclaré qu'un rack Sparc SuperCluster complet peut surpasser le serveur haut de gamme Power 795 d'IBM « d'une bonne longueur ». Lundi dernier, IBM a refusé de commenter ces prétentions. Le SuperCluster offre une bande passante de 42 Go /s pour le stockage et peut réaliser jusqu'à 1,2 million d'opérations par seconde en entrée / sortie a indiqué le bouillant CEO.

« Oracle est en train de proposer une plate-forme orientée hautes performances à la base installée de clients restés fidèles à Sparc et Solaris », a déclaré Dan Olds, analyste chez Gabriel Consulting. « Il y a toutes sortes de tests et de comparatifs entre  les serveurs IBM et les machines x86 les plus courants. Mais il reste à savoir si cela sera suffisant pour convaincre des clients de considérer à nouveau l'acquisition de matériel Sparc ». Le SuperCluster ambitionne de faciliter la mise à niveau des systèmes Sparc existants. Ce serveur haut de gamme sera livré avec Solaris 11, mais les clients pourront choisir d'exécuter Solaris 10 s'ils le préfèrent, selon John Fowler. Solaris 11 inclut toutefois certaines améliorations qui permettent de mieux gérer le nombre élevé de threads et l'importante bande passante en entrée/sortie.

L'avenir de Sparc semble assuré

Quand Oracle s'est porté acquéreur de Sun, plusieurs questions s'étaient posées quant à son engagement sur la plate-forme Sparc. Mais Larry Ellison en a fait la pierre angulaire de la stratégie de l'éditeur de Redwood, en construisant des machines chères, mais puissantes, qui combinent les technologies Sun et Oracle. La société dispose d'ailleurs d'une feuille de route pour sa famille Sparc avec un T5 dans les tuyaux. John Fowler ne désirait pas en dire beaucoup sur cette puce lors de sa rencontre avec nos confrères d'IDG NS, sauf qu'Oracle est en avance quant à son développement.
Last Updated on Saturday, 01 October 2011 13:37