Written by Mohamad Al Arna'out et Ali El Saleh
Tuesday, 03 December 2013 10:32
Last update: 22/02/2019
https://www.academia.edu/31928086/Le_patriote_palestinien_le_moins_connu_Ahmed_Hilmi_Pasha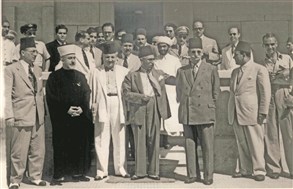 «حكومة عموم فلسطين»
محمد م. الارناؤوط
الجمعة ٢٩ نوفمبر ٢٠١٣
مرّت قبل أسابيع الذكرى الخمسون لوفاة أحمد حلمي باشا (1882-1963) من دون أية إشارة عنه على رغم المناصب التي شغلها في دول آفلة ودول جديدة في الشرق الأوسط طيلة القرن العشرين، والتي كان آخرها «رئيس حكومة عموم فلسطين» من أيلول (سبتمبر) 1948 إلى وفاته في سوق الغرب شرق بيروت في 29 حزيران (يونيو) 1963، تلك الحكومة التي لم يبق منها سوى جوازات السفر لدى بعض المعمّرين.
أحمد حلمي عبد الباقي شخصية مركبة متعددة الأبعاد الاثنية والثقافية كان لها دورها الفكري والسياسي والاقتصادي والأدبي في المنطقة خلال القرن العشرين.


ولد في صيدا عام 1882 لأب ألباني كان يخدم في الإدارة العثمانية، وتنقل معه بين لبنان وفلسطين، ثم تابع دراسته في إسطنبول وعاد إلى نابلس للعمل في البنك العثماني. ونظراً إلى مكانة أبيه عهد بتعليمه اللغة والأدب إلى الأديب المعروف سعيد الكرمي، وهو ما جعله يتميز لاحقاً في مجال الشعر كما يشهد على ذلك ديوانه الذي نشر في عمّان سنة 2002 مع مقدمة لإبراهيم نصر الله، كما عُرف عنه دعوته إلى الحرية والحكم الدستوري وهو ما أدى إلى نفيه من نابلس إلى أن قام الجيش العثماني بانقلابه في تموز (يوليو) 1908 وأُعيد العمل بالدستور. ومع إعلان الحرب العالمية الأولى جُنّد في الجيش العثماني وشارك في العمليات العسكرية ضد الجيش الإنكليزي في العراق حتى 1917 ثم انضم إلى الثورة العربية.
انضم إلى «حزب الاستقلال» الذي كان الواجهة السياسية لـ «جمعية العربية الفتاة» في دمشق. ونظراً إلى خبرته المالية عيّن معاوناً لوزير المالية في الحكومة العربية سعيد شقير، وبقي هناك حتى معركة ميسلون ودخول القوات الفرنسية إلى دمشق في أواخر تموز 1920.
وبعد انتقال أركان حزب الاستقلال إلى عمان، ساهم عبد الباقي مع غيره من اللاجئين السياسيين في حكومة الإمارة الجديدة التي نشأت في شرق الأردن بحكم خبرته المالية وشارك وزيراً للمالية في ثلاث حكومات متعاقبة (حكومة مظهر رسلان وحكومة علي رضا الركابي وحسن خالد أبو الهدى) خلال 1921-1924.
وبعد ذلك ذهب إلى القاهرة حيث استدعاه من هناك في 1926 الحاج أمين الحسيني رئيس المجلس الإسلامي الأعلى في القدس ليكون مراقباً عاماً للأوقاف مستفيداً من خبرته المالية والإدارية. فاستقر في فلسطين وأصبح من الشخصيات العامة فيها بعد انخراطه في العمل الاقتصادي والسياسي.
وفي 1930 اشترك مع عبد الحميد شومان في تأسيس «البنك العربي» الذي ارتبط صعوده به لأنه كان يديره في غياب الشريك في الولايات المتحدة حتى عودة شومان واستقراره في القدس في 1933. وفي تلك الأثناء أسس أولاً «البنك الزراعي» ثم «بنك الأمة العربية» في 1942، وكان همّه الأساسي دعم الفلاحين الفلسطينيين لعدم بيع أراضيهم لليهود.
أما في الجانب السياسي فقد تمثل دوره في قيادة الحركة الوطنية الفلسطينية (اللجنة العربية العليا) حيث كُتب المنشور التاريخي والدعوة إلى الإضراب العام في 1936 في مكتبه بالقدس. وبدت مكانته لاحقاً إذ كان من بين الزعماء الذين نفتهم بريطانيا إلى جزيرة سيشيل في 1937 ولم تطلق سراحهم إلا في 1938 لإحداث انفراج مع القيادة الفلسطينية عشية مؤتمر لندن 1938.
وبعد تصريح وزير الخارجية البريطاني في مجلس العموم في شباط (فبراير) 1943 عن تأييده لأي اتحاد عربي «إذا رغب العرب في ذلك»، رداً على اقتراح لرئيس الوزراء العراقي نوري السعيد، بادر عبد الباقي ونسيبه رشيد الحاج إبراهيم (حمو ابنه محمد) وعوني عبد الهادي إلى الكتابة لنوري السعيد للدعوة إلى «مؤتمر عربي حكومي أو شعبي يُقرّر فيه قيام اتحاد عربي على وجه يضمن رفع مكانة العرب»، وهو ما تلقّفه نوري السعيد وخاطب به رؤساء الحكومات ثم التقى هؤلاء في القدس خلال تشرين الأول (أكتوبر) 1943 ضمن التحضيرات لمؤتمر الإسكندرية 1944 الذي تمخض عن تأسيس جامعة الدول العربية.
ومع تفاقم الأوضاع في فلسطين بقي مرابطاً في القدس ومدافعاً عنها حتى 15 أيار (مايو) 1948 حين أعلن الملك عبدالله عن توجه الجيش العربي إلى فلسطين وتعيين عبد الباقي حاكماً عسكرياً على القدس، فأدار باقتدار المعركة للحفاظ على القدس في وجه الهجمات الإسرائيلية.
وفي غضون ذلك كانت جامعة الدول العربية قررت في تموز 1948 تشكيل «إدارة مدنية موقتة لفلسطين» ثم قررت اللجنة السياسية لجامعة الدول العربية في أيلول 1948 تشكيل «حكومة فلسطينية» برئاسته وتلقى دعوة من رئيس الوزراء المصري محمود فهمي النقراشي لتمثيل فلسطين في الجامعة العربية باعتباره «رئيس حكومة عموم فلسطين» التي تقرر أن تعلن في غزة يوم الجمعة 25 أيلول 1948.
ولكن هذا القرار أدى إلى انقسام فلسطيني داخلي، إذ سعى الحاج أمين الحسيني إلى عقد مجلس وطني برئاسته ليكون مرجعاً للحكومة الجديدة ومدخلاً لرئاسة الدولة الجديدة، وهو ما اعترض عليه عبد الباقي خلال انعقاد المجلس المذكور الذي لم ينجح في حشد غالبية فلسطينية معه. ومن ناحية أخرى أدى عقد مؤتمر عمان في اليوم ذاته (1/10/1948) إلى قيام مرجعية أخرى فلسطينية انتهت إلى تأييد انضمام الضفة الغربية إلى الأردن. وقد أثر هذا في مساعي «حكومة عموم فلسطين» لكسب الاعتراف الدولي في الأمم المتحدة خلال دورة الجمعية العامة في 1948 والجامعة العربية لاحقاً. وقررت الجامعة العربية بعد اعترافها الواقعي بانضمام الضفة الغربية إلى الأردن عام 1950 أن تخفض تمثيل «حكومة عموم فلسطين» إلى شخص رئيسها فقط كما خفضت المساعدة السنوية التي استمرت حتى نهاية عام 1962، أي إلى أن مرض رئيسها وانتقل إلى بيروت حيت توفي في 29 حزيران (يونيو) 1963 ونعاه أمين عام الجامعة العربية عبد الخالق حسونة في افتتاح الدورة الأربعين لمجلس الجامعة في 9 أيلول 1963 بلقبه الذي أصبح يمثل الماضي: «رئيس حكومة عموم فلسطين». ومع أن الأردن لم يعترف بـ «حكومة عموم فلسطين» ولا برئيسها، على رغم العلاقة الطيبة التي كانت تربط بين الملك عبد الله وأحمد حلمي باشا حتى أيلول 1948، إلا أن الملك حسين سمح بنقل جثمان عبد الباقي إلى الأردن ودفنه في القدس بناء على وصيته.
وعلى رغم الأوضاع الصعبة التي وجدت فيها «حكومة عموم فلسطين»، أذ جوبهت بانقسام فلسطيني- فلسطيني بعد أن سحبت البساط من زعامة الحسيني وبتنافس عربي- عربي لاستقطاب عرب فلسطين، إلا أن عبد الباقي بقي يمثل الكيانية الفلسطينية في أصعب الظروف ونجح في إصدار «جواز سفر حكومة عموم فلسطين» لعشرات الآلاف من الفلسطينيين العالقين في قطاع غزة وغيره إلى أن توقف إصداره مع وفاته وأخذت الدول العربية المضيفة للاجئين الفلسطينيين تصدر لهم وثائق سفر باسمها.
آخر تحديث:
الخميس ٢٨ نوفمبر ٢٠١٣
http://alhayat.com/Details/576744 Rectificatif par Ali Elsaleh
أخي أمين
تأخرت قليلا في الإجابة لمراجعة بعض الأوراق الخاصة التي استطعت حملها معي من دمشق. مع الأسف بقي القسم الأكبر منها هناك. حسب جردي لمحتويات الصندوق الذي فيه أوراق الوالد:
تأسيس بنك الأمة العربية: وكان اسم الشركة عند تأسيسها البنك الزراعي
العربي – شركة محدودة الأسهم سجلت في فلسطين بتاريخ 27 تشرين الأول سنة 1933، ثم غير إلى الاسم الحالي بموجب قرار الجمعية العمومية بتاريخ 26 مارس سنة 1942 ونشر ذلك التغيير في الوقائع الفلسطينية بتاريخ 30 نيسان سنة 1942. وبتاريخ 31/7/1941 عُين جميل مراقبا للبنك الزراعي العربي في القدس اعتبارا من 1/8/1941
أما بشأن صداقة أحمد حلمي للملك عبد الله فإن ذلك ليس صحيحا حسب الأوراق في دمشق. عندما صرفه الملك من الخدمة، اعتبر أحمد حلمي أن عبد الله لا يملك حق ذلك، وأن الوحيد الذي يملك حق ذلك هو الملك حسين الأول كما كان الوطنيون العرب يدعون الشريف حسين شريف مكة. أما تعيينه لاحقا حاكما عسكريا للقدس من قبل عبد الله فكان ذرا للرماد في العيون لتغطية تأخر عبد الله في إرسال الجيش العربي لنجدة القدس عام 1948 إليها، ولشعبية أحمد حلمي الذي بقي وحيدا مع شخص آخر مسنا مثله لم أعد أذكر اسمه، وكانا كل من بقي في القدس من الهيئة العربية العليا بعد فرار باقي أعضائها. وسرعان ما استقال أحمد حلمي من المنصب فور استلام عبد الله للأمر في القدس ودخول الجيش العربي رسميا إليها. لم يوافق أحمد حلمي أبدا على ضم الضفة إلى الأردن تحت عرش عبد الله. عينته الجامعة العربية بعد ذلك رئيسا لحكومة عموم فلسطين في غزة. لا أذكر أنه دعي مرة برئيس وزراء. بقي رئيسا للحكومة في غرفة متواضعة في القاهرة على سطح إحدى البنايات هناك.
الرحمة لك يا أحمد حلمي وإلى كل المخلصين الذين ما زالوا يموتون في الشام عسى أن ينبلج يوما نور فجر جديد.
Jamil est notre père Ali et moi. Ahmad Hilmi est l'oncle de notre père/ Jamil is our father Ali & I. Ahmad Hilmi is our father's uncle(NDLR)
Echange avec Imad Abdullah et Gada Dahhan Serafi

Imad wrote the 10 december 2013

Hello Amin. This was a remarkable remembrance and very appreciated. The stories of the elders need to remain alive and recorded, and you and your brother have done a fine effort.
There should be many among our colleagues who have distinguished historic figures in their families and one hopes they will pass on the heritage.

Dear Imad,

We know a little about our history & about our language, therefore about our identity. We should define clearly our roadmap in case of we are proud about our culture. I asked many of our mlf friends to write about their fathers & I am still waiting for a few of them. Samir, Nicolas, Mouna..did; hope is requested to continue the effort started in 2009.

But what is tremendous is that Ahmad Hilmi Abdul Baki was an arab patriot & very clever in finance. He created with Abdul Hamid Shoman the Arab Bank.
When my father proposed to Yasser Arafat (who was living upstairs in Damascus) the transmission of another palestinian Bank created by Ahmad Hilmi too (National Arab Bank), Arafat closed advisors refused because the bank bankruptcy following 1948 palestinian's exodus. Those advisors ignored the bank archive which value is tremendous (it includes a part of palestinian memory in the twentees, thirtees & fourtees).

"Etrange découverte" which many of my friends hesitate to support financially the production, is a sort of "waiting to retrieve our identity & a hommage to those who are fighting for.

Yours
Amin - 12 dec.2013

Dear Amin
In response to you request about adding famous fathers I would like to mention my father. His name is
dr Sami Dahan.
He published 30 books , has a library in Aleppo university in his name, a street and a school in his name, all given in his honor after he passed away in 1971 at the age of 59.
Many of his books are available in some famous libraries such as columbia university and Yale etc. He was a member of the
المجمع العلمي
in Damascus Which was headed then by Muhammad Kurdali(1).
He also was a professor at Damascus university and Rabat university and Jordan university !

I actually would like to add my middle name Dahhan in my mfl group so more people can remember me as my name is Ghada Dahhan serafi, serafi being my husband's last name ! Anyway I just wrote this per your request , but actually I am very proud that many of us came to the US or France from distinguished ancestry.
I always enjoy reading about all of you and remember my days at the lycée francais with lots of joy
Happy holidays to all of you And a Happy and Healthy new year.

Gada Dahan Serafi - 12 dec.2013

NDLR
(1)Muhammad Kurd `Alî figure de proue de la renaissance intellectuelle de la Syrie au début du XXe siècle
http://www.mlfcham.com/index.php?option=com_content&view=article&id=1045:muhammad-kurd-ali-figure-de-proue-de-la-renaissance-intellectuelle-de-la-syrie-au-debut-du-xxe-siecle&catid=349:amour-et-developpement&Itemid=1511
Pour compléter cette étude préliminaire, ci-joint des extraits de quelques références:
i)
الموسوعة الفلسطينية
http://www.palestinapedia.net/%D8%B9%D9%85%D9%88%D9%85-%D9%81%D9%84%D8%B3%D8%B7%D9%8A%D9%86-%D8%AD%D9%83%D9%88%D9%85%D8%A9/
(...)
غير أن مسألة الحكومة العربية الفلسطينية، أصبحت ضرورة ملحة عشية الدورة الجديدة للجمعية العامة لهيئة الأمم المتحدة في خريف عام 1948، من اجل تمثيل فلسطين في اجتماعاتها. وقد تبنت الهيئة العربية العليا الموضوع، وطاف جمال الحسيني* في العواصم العربية من أجل كسب تأييدها. وفي 23/9/1948 أعلن في غزة* عن تشكيل حكومة عموم فلسطين. وقام رئيسها احمد حلمي عبد الباقي* بابلاغ ذلك إلى الحكومات العربية وإلى الأمين العام للجامعة العربية، كما أذيع بيان إلى الشعب العربي الفلسطيني باسم الحكومة الجديدة، وطلب منه التعاون مع حكومته الوطنية.
ضمت حكومة عموم فلسطين كلا من أحمد حلمي عبد الباقي رئيساً، وجمال الحسيني، ورجائي الحسيني، وعوني عبد الهادي*، وأكرم زعيتر*، والدكتور حسين فخري الخالدي*، وعلي حسنة، وميشال أبكاريوس، ويوسف صهيون، وأمين عقل أعضاء. وكان معظم هؤلاء قد سبق تسميتهم لمجلس الإدارة المدنية الفلسطينية السابق.
(...)ومن ناحية أخرى قامت جامعة الدول العربية بالتضييق على حكومة فلسطين مالياً مما اجبرها على تسريح القوات المتبقية من الجهاد المقدس التي كانت تعمل في المنطقة المصرية من فلسطين، وتحت إشراف الجيش المصري. أما القوات التي كانت تعمل في المناطق الذي يسيطر عليها  الجيش الأردني قبل ذلك واستلم الجيش الأردني مواقعها.
(...)وفي دورة الاجتماع العادي السادس عشر لمجلس الجامعة (1952) اتخذ قراراً بتقليص حكومة عموم فلسطين إلى مجرد شخص رتبها أحمد حلمي وسكرتيرها العام جميل السراج وبضعة موظفين وتخفيض مخصصاتها إلى 1500 جنيه مصري، وعلى الرغم من تواضع هذا المبلغ إلا أن الحكومة كانت تجد مشقة في الحصول عليه من الجامعة وقد بلغت أعلى موازنة للحكومة في العام المالي 1962/1963 ما قيمته 5700 جنيه مصري أي ما يعادل 475 جنيها شهرياً وكانت الحكومة تعتمد في تغطية نفقاتها على رسوم جوازات السفر التي كانت تصدرها بمعدل جنيه واحد على كل جواز تصدره. وما زاد عن ذلك كانت تقدمه إعانات رمزية للأسر الفلسطينية المحتاجة. وعلى الرغم من كل هذه العقبات والعراقيل ظلت هذه الحكومة قائمة إلى أن غادر رئيسها أحمد حلمي القاهرة في أواخر عام 1962 إلى لبنان حيث اشتد به المرض وتوفي في 29/6/1963 فانتهت بانتهائه.
ii)

حامية القدس تطلب المزيد من الأسلحة - 21 آذار 1948 - النكبة الفلسطينية والفردوس المفقود للأستاذ عارف العارف



http://www.palestineremembered.com/Articles/Nakba-Volume-I/Story4214.html
Last Updated on Sunday, 05 January 2020 13:33