Written by Author Khairat Al-Saleh, translated by Noha khalaf, reviewed by Parvin Loloi
Friday, 22 August 2014 14:15
Khairat Al-Saleh left us 29th july 2014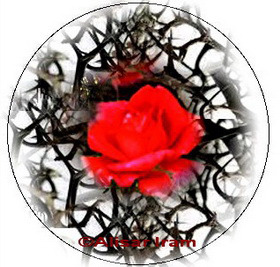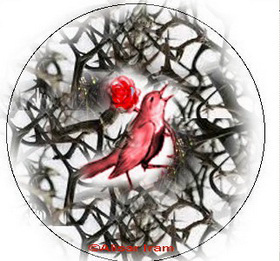 Original text in Arabic and French translation
http://www.mlfcham.com/index.php?option=com_content&view=article&id=1546:-the-nightingale-and-the-rose&catid=350:alisar-iram&Itemid=2083
                                                                                 Oh Bell
                                                                             Ring Ring Ring
                                                                         Chime Chime Chime
                                                            The lost note is the one that pounds in my heart,
                                                                No my heart has not become a continent,
                                                                       Nor a pasture for deers.
                                                                       Neither a home to idols,
                                                                Nor the floating around the Kaaba.
                                                                         It is the milky-way,
                                                     It is this universe where love flows and weaves
                                                                       A colour for the stars
                                                                    As glittering as the red rose.
                                                                    Should the nightingale die ?
                                                                   So that the rose could shine
                                                                In the darkness of the universe?
َ
                                                                           Ring, ring, ring
                                                                                Sorrow,
                                                              Like the sound of a Sufi's flute.
                                                                 The lost note is the note
                                                               That is pounding in my heart,
                                                                  When the bird chants
                                                                 the symphony of farewell.
                                                       What is this pain if not from the rose's thorn ?
                                                                 And from the rose's stab?
                                                                            The rose,
                                                          Along with the nightingale's cheer,
                                                                        With a clearer voice
                                                                        And a softer purity
                                                                         Is all that I own.
                                                                     This pain is for the rose,
                                                       And from the rose, the wild beautiful star,
                                                               The hugging nightingale whispers,
                                                             And his chest embraces the thorns ,
                                                              While he is engulfed in the beauty
                                                                       of a crimson gleam.
                                               I have spread my soul at the steps of the universe,
                                                 And pulled the strings then played and played
                                                                    And the nightingale sang,
                                                                           And his chant
                                                                     was winding and rising
                                                          and floating around the roaming star.
                                                                  The sound of bells was fading
                                                          and the nightingale was chanting its last hymn.
                                                             When the pounding of the chimes stopped
                                                               the lost note in my heart stopped too.
                                                            And the nightingale disappeared within the rose
                                                                 And his soul united with her soul.
                                                                      In the brightness of light
                                                                And the emergence of a purple glow,
                                                                 How could we distinguish and see,
                                                               Who is the rose and who is the bird
                                                                      How could we distinguish
                                                                    Between the bleeding wound
                                                                   And the rising circle of the sun.
©اليسار ارم
* John Donne ـ الاشارة الى الشاعر الانكليزي
* الاشارة الى ابن عربي في ديوان الاشواق
English Draft translated
By Noha Khalaf
reviewed by  Parvin Loloi
Last Updated on Saturday, 20 August 2016 10:14