Written by Yassin Al Haj Saleh, Amin Elsaleh
Monday, 08 September 2014 09:48
Two persons wrote an Elegy to the poet, writer, painter and sculptor Alisar Iram, we shall start with Amin Elsaleh.
15 august 2014 recital on her grave 
When He decided to create Her, He gathered some angels and Said: She shall be half an angel. She shall suffer from every single cry and tear but she will enjoy Her tree.
What about Humans said an angel?
Don't ask this question again, He said.
Who shall protect half an angel?
Friends He said.
Hence He asked many to share her pain and they provided Her Love and Happiness.
What about the child, an angel said? 
 He shall remain in Her, He said. He shall not leave Her.
Miss K. remains unfinished song, the narrator said. She will provide us peace as long as we live. Don't forget her beloved tree.
Yassin Al Haj Saleh Words, some days after 29 july 
Cliquez-ici pour télécharger le document pdf (EN translation)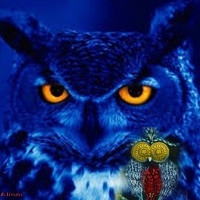 توفيت قبل أسبوع أليسار إرم، الفنانة والشاعرة والكاتبة السورية المقيمة في ويلز بالمملكة المتحدة.
أليسار المتحدرة من دمشق كانت تعيش بكل معنى الكلمة في عالم من الفنّ والموسيقا والكلمات. معرفتها بالموسيقا الكلاسيكية لا تضاهى، وكذلك بالشعر الانكليزي، وبتاريخ الفنّ الإسلامي، وبالأساطير اليونانية والعربية. ولها عن الأساطير العربية كتاب منشور بالإنكليزية، اللغة التي تكتب بها بتمكّن بالغ، شعراً ونصوصاً نثرية مميزة.
أليسار، التي عاشت مستقلة ووحيدة في بيت على البحر في ويلز، تعيش ما تفكّر وتكتب. سمّت نفسها أليسار على اسم ملكة قرطاج الفينيقية، وتكنّت بلقب إرم، تيمّناً بـ«إرم ذات العماد» التي ورد ذكرها في القرآن.
عاشت وحيدة؟ لا، كانت لأليسار أصدقاء كثيرون. جارُها البحر أوّلهم. مفكرون وفنانون وشخصيات أسطورية مثل كانط وغوخ وبروميثيوس وسيزيف وبياتريس دانتي… ويشرفني أني كنت أحد هؤلاء الأصدقاء الذين اهتمت أليسار بأمرهم وعملهم دون سابق معرفة. كانت تقرأ ما أكتب وتعلق عليه، وبإيقاع تصعب مجاراته.
صديقها أيضا هو البوم (الذي سمّيتُه نسمى)، وقد أوكلته بأمر حمايتي حين كنت في سوريا. ويبدو أنه لم يقصر.
كان أليسار تتدبّر أمر أن يبقى وقتها ممتلئاً دوماً. تكتب شعراً، ومقالات، وتشكّل أشياء من السيراميك، وترسم. ألوانها زاهية وقوية، مع حضور كبير للأزرق في أعمالها.
كان أكثر ما يثير غضبها تقريرات رعناء عن التاريخ والثقافة والدين يُرسلها متوترون كارهون. لم تكن متعصبة لشيء، لكن ضيق الأفق والجهل كانا يثيران حنقها.
تابعت أليسار الثورة منذ البداية، وكتبت على مدونتها وصفحتها على فيسبوك نصوصاً ومتابعات صدرت عن روح بالغة الصفاء. ولعل أكثر ما أوجع قلبها مصير التراث العمراني الإسلامي وقبل الإسلامي الذي كانت على معرفة ممتازة به. وعن هذا التراث في حلب نشرت الجمهورية نصاً وحيدا لها.
كان آخر ما نشرته على مدونتها شيئاً عن حلب أيضاً. قالت إن قصف قوات النظام للمدينة بصواريخ سكود والبراميل المتفجرة قد ألحق أذىً بالغاً بالتراث العمراني للمدينة، وإن تبادل القصف بين قوات المعارضة وقوات النظام قد تسبّب بأذى إضافي.
كأنها كانت تشعر بقرب رحيلها، قبل وفاتها بخمسة أيام كتبت على صفحتها على فيسبوك ما يشبه وصية بغزّة: «مهما يكن ما يقع لنا، حتى ونحن نستلقي محتضرين، حتى والعالم كله قد تخلّى عنا، حتى وآلامنا الرهيبة تغمرنا، حتى وسوريا يجري تحطيمها وردّها إلى موادّ أولية، تبقى غزّة مسؤوليتنا، غزّة تبقى مسؤوليتنا، غزّة تبقى مسؤوليتنا».
غاب عنا هذا المزيج النادر من الرومنسية والشجاعة والتكرّس والخيال والحبّ. الملكة أليسار رحلت عن عالمنا فجأة بعد مرض قصير. رحلت كما رحل أبناء سوريا طوال أربعين شهراً، وكما يرحل أطفال سوريا وغزّة، الذين رثتهم بقصيدة جميلة بالإنكليزية قبل أيام غيابها الأخير.
«إن كان لي أن أنادي الأطفال
إن كان لي أن أمدّ روحي بين أرض تتداعى وسماء تتلألأ
إن كان لي أن أمدّ روحي بلطف وأزيّن السماء
بورود حمر وورود بيض
بطيور زرق وفراشات تتغير ألوانها
بمروج أخضرها متّقدٌ
لو كان لي، لو كان لي
لناديت الأطفال
من تحت الحطام
من تحت الأنقاض
عميقاً من تحت الإسمنت والفولاذ المكسّرَين
لو كان لي أن أناديهم
لينهضوا سالمين مُعافَين
لينهضوا، لينهضوا
ثم لأقودهم إلى سجادة الزهور
تمتد عالياً عالياً
إلى البوابات الشامخة لمدينة النور
زرقاء هنا، ذهبية هناك
فضية من أعلى، لازوردية متموجة من أدنى
وملتمعة من اليمين
لو كان لي، لو كان لي
أن أسمع، وأنا أصغي، الضحكات الطفلية
ترنّ في أرجاء مدينة النور
من النجمة البارقة إلى البركة المتلامعة
من القمر الكهرماني إلى البرج المتلألئ
لو كان لي لو كان لي
هل كانوا سيغفرون لي؟»
وداعاً يا جلالة الملكة. لقد كنتِ بحق إحدى عظيمات سوريا الحزينة.
Last Updated on Monday, 23 March 2015 10:48