Written by Samir Abdulac
Wednesday, 01 October 2014 14:15
Dr Samir ABDULAC is Secretary General, ICOMOS

[1]

France.
The present article is published by the Gulf Times, Doha
The present conflict in Syria is a continuing human tragedy that has already claimed over 160,000 lives. Some experts estimate the economic losses over 140 billion US dollars. Syrian Cultural Heritage is one of these brutal war terrible casualties. Its loss is "a wound to the soul and identity" as recently stated by Irina Bokova, the Director General of UNESCO. Is the future of Syrian cultural heritage irremediably doomed or are some lights of hope still to be expected?
Syrian Cultural Heritage
Syrian Cultural Heritage is ancient, rich and varied, as it is representative of so many historical and even pre-historical periods. In Syria can be found some of the oldest evidence of animal domestication, of agriculture, of human settlements and urban planning. Ancient eastern cities and kingdoms as well as Hellenistic, Roman, Byzantine, Arabic and Ottoman civilizations gave us masterpieces and so even did short lived Crusader's states. The proximity and sometime juxtaposition of their monuments is often amazing.
Syria is also associated to the three monotheistic religions and was often defined as a "cradle of civilisations". Syria has more than 5,000 attested cultural sites. Perhaps as many others are yet to be explored. Some of them like "tells" are historical mounds where settlements kept being built for centuries, if not millennia. Archaeology made great leaps forward during the last 80 years in Syria and 180 Syrian, foreign or mixed archaeological missions were working in the country at the eve of the conflict.
38 museums were recently built or arranged in historical buildings. The important ones were located in Damascus and Aleppo, but many other were situated in smaller cities, thusly improving the country tourism potential. Syria Cultural Heritage also includes archive collections, libraries, and many different immaterial aspects as cuisine, songs, dances and traditional crafts.
World Heritage Sites
Most of World Heritage sites suffered from the conflict. The Old city of Aleppo was probably the most damaged proportionally as it was located on the front line. The Omayyad Mosque passed hand several times until its minaret collapsed. The regular army remains in the Citadel, but the historic gate of the first bastion was damaged during an attempted assault. The souks were burnt, a lot of historical houses and monuments were bombed. Elsewhere, cars and tunnels loaded with explosives were detonated.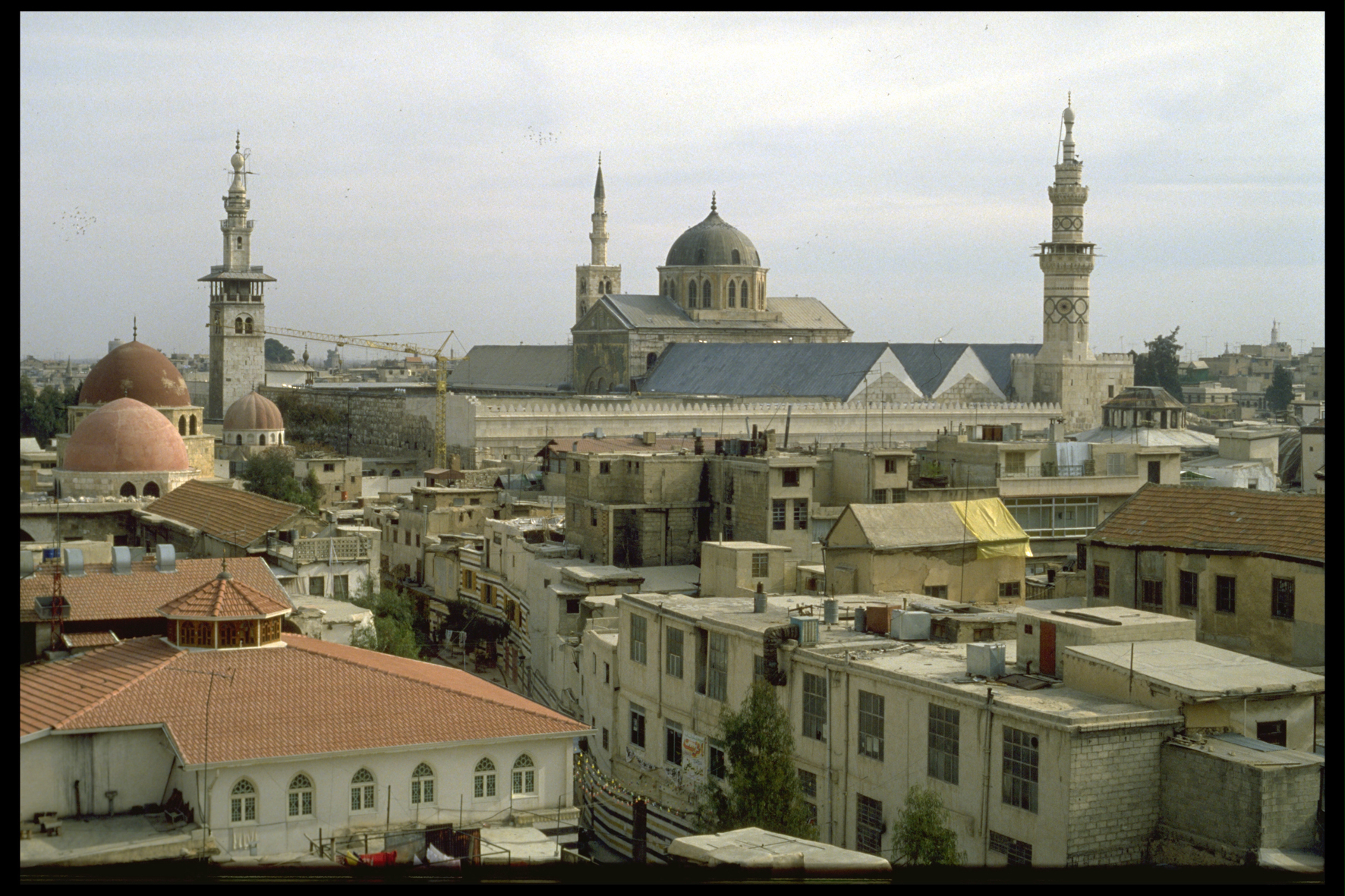 Old Damascus and the Omayyad Mosque (1993) by author
Fighting erupted in July 2012, inside the Midan, a historical neighbourhood beside the old walled city of Damascus. Some damages were recorded then. A vehicle exploded in Bab Touma and sporadic shelling still hits the old city, including a mosaic-covered facade of the Omayyad mosque and a wall of the citadel. The damage remains out of scale with what happened in Aleppo, but the old city remains at a higher risk as the upper structure of ordinary traditional houses is made of wood. Many devastating fires occurred in the past including during 1925 revolution. If repeated, such shelling may endanger whole neighbourhoods and threaten most precious monuments.
Bosra citadel-theatre is occupied by the regular army and shelling hits some stone ancient houses. Palmyra site has changed hands and the regular army is positioned on the citadel overlooking the classical site. Army tanks and armoured vehicles are installed much too close to the ruins. Some shooting is occasionally exchanged with rebels present in the oasis. Antique tombs were stolen.
Insurgents conquered the Krak des Chevaliers when it was still undefended. The regular army retook it a long while later after air bombing. Damage was assessed and restoration works are already planned. No consistent reports surface from Saladin Castle, the other medieval castle.
The Antique villages area is very wide and includes many sites in a rural setting along the Turkish border. Armed groups are signalled in Qalaat Samaan and disturbing news and images surface from several places, but it is still too early to begin a general assessment.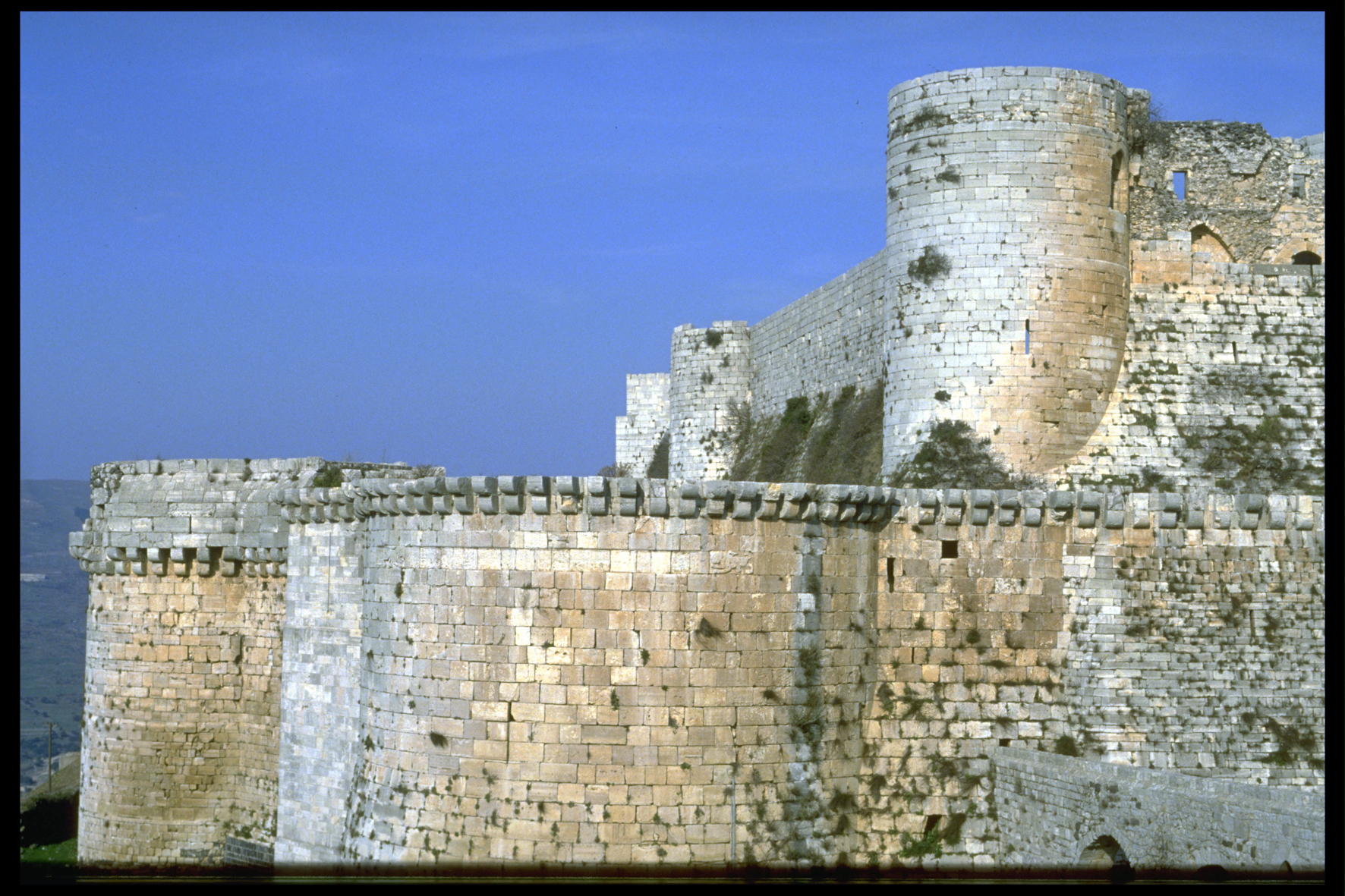 The Krak des Chevaliers (1995) by author
Challenges
The safeguard of Syrian Cultural Heritage faces a wide array of challenges to begin with the destructions due to the war itself and its direct as well as its collateral damages. An observation of The Hague convention of 1954 may have prevented the use of built cultural sites for fighting purposes. This was unfortunately not the case. The scale of population displacement is also cutting the social roots of intangible heritage. Even natural heritage is a rarely mentioned war victim too.
Chaos and the collapse of law and order generated illegal excavations and smuggling of moveable heritage at a huge scale never even remotely approached before. A short sighted race for "gold" is irremediably destroying yet unexplored historical and pre-historical archaeological layers, eradicating millennia old information about mankind's earliest progress and civilisations. Construction has been taking place inside monuments and in archaeological sites. Additional floors were raised on historical cities.
A new feature also appeared, rather akin to vandalism and iconoclasm, which is the voluntary and publicized destruction of cultural heritage. This is the case of Assyrian sculptures representing kings and lions, as well as of Islamic mausoleums. Even some churches were not spared.
Syria has been for a long time a rather secure country. The lack of safety spread so quickly that elementary precautions were not taken on archaeological sites. Destruction of built heritage is increasing over time. Some monuments were even subject to repeated and successive damage along days, weeks or years of conflict. An extraordinary collection of photographs, videos and reports are available on the web, as never before in such a situation. The official DGAM, opposition groups like APSA, some NGOs and western universities do collect and present them now.
Stakeholders
A recent survey by Heritage for Peace, an NGO, has identified 38 different bodies undertaking actions for the safeguard of Syrian cultural Heritage in Syria and abroad. Perhaps should we remember that with about 2,600 agents, the Syrian Directorate General of Antiquities and Museums (DGAM) was comparatively one of the most powerful Arab institutions in charge with Cultural Heritage. Even if its Headquarters are based in Damascus, it still keeps contacts with its personnel in different parts of the country, whether in government-controlled areas or not. It has evacuated the collections of most museums to safer places in a rather organised manner. Digital inventories are being undertaken at a steady pace. Training and raising awareness campaigns are undertaken at the national level. Foreign scientists praise the professionalism of thisc stand in a difficult and dangerous context.
Universities, professional bodies, associations, the civil society and even opposition activists are also feeling concerned and trying to monitor, assess, protect and evacuate whatever they can.
Foreign universities and research centres are also active. New specific NGOs are appearing like the Association for the Protection of Syrian Archaeology (APSA) and ILA Souriya in France or Heritage for Peace in Spain. Meetings are drawing lessons from other recently occurred conflicts for example. It already happened that representatives from the DGAM and from the Gaziantep "interim government" have both occasionally attended the same meetings.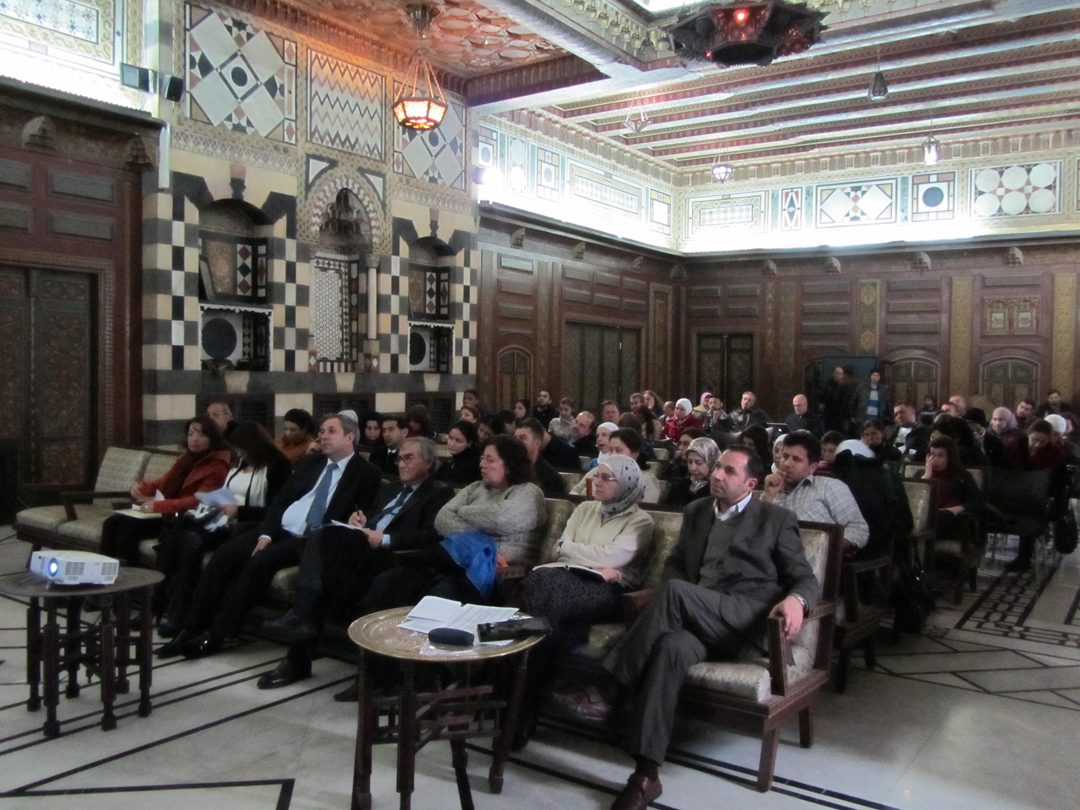 Training for Risk Preparedness with ICOMOS and ICCROM in Damascus, by DGAM
International organisations like Blue Shield issued alerts and assessments, ICOM published in January 2014 a "Red list" about moveable Syrian cultural Heritage general characteristics. Thanks to its Syrian members, ICOMOS in cooperation with ICCROM and the DGAM was the first to provide training for risk preparedness to Syrian professionals in January 2013, through the Internet. 170 of them were able to attend in Damascus and Idleb. Technical leaflets were prepared and translated. UNESCO, ICOMOS and ICCROM also provided advisory expertise to the DGAM and the Municipality of Damascus to reduce damage and fire risks in the ancient city of Damascus. Some sources of funding are also being currently explored. ICOMOS, ICOM and foreign institutions gather thousands of professional members across the world that may be fully mobilised when necessary.
UNESCO has been closely monitoring the situation and coordinating with all stakeholders. The Director General of UNESCO issued several statements about the situation in Syria, including a joint one with the Secretary General of UN in March 2014. The six Syrian World Heritage sites were all inscribed on the list of world heritage in danger in June 2013. A most successful workshop was held in Amman about the traffic of Syrian Heritage in February 2013. It gathered official representatives from Syria and neighbouring countries, foreign embassies, scientists and experts, international organisations, Interpol, western customs, FBI, Christie's, etc. UNESCO is presently setting up a European funded emergency Safeguarding of the Syrian Heritage project. ICOMOS and ICCROM should be privileged partners. This project was presented to over 130 Syrian and international experts in Paris, at the end of May 2014 and should begin soon. It should include:
1.      Damage assessment, mapping and inventories,
2.      Communication and awareness campaign to halt damage to cultural heritage
3.      Technical assistance and capacity building for national stakeholders and beneficiaries
Lebanese authorities have seized Syrian ancient cultural artefacts and returned them to Syria and Jordanian authorities have also seized some. A rare Archaeological basalt stele was withdrawn from an auction sale at Bonhams last April. Much more remains to be done.
Directions
ICOMOS Task force for Syria has remained neutral and optimistic. This conflict will end some day as all wars do, the sooner, the better. When normality and security will prevail, many actions will then become possible such as a general field assessment of the situation and large-scale restorations projects. Massive, quick and unbridled reconstruction may however become as dangerous as war itself for cultural heritage. Cultural heritage would however be a capital asset for as a common ground for reconciliation and for future economic development plans. In the meanwhile two sorts of actions are possible:
 

Inventories of archives, artefacts and buildings, mapping of monuments and historic cities, training for risk preparedness and future responsibilities, raising awareness of the general public, provision of advisory services and prevention of illicit traffic.

Anticipation of future possible scenarios, preparing adequate comprehensive strategies accordingly, with phased technical, social, institutional, juridical and financial aspects.
The coordination of international efforts would logically have to be presently undertaken by UNESCO, while Syrians should be prepared to be in the front line to implement future action plans thanks to a hopeful reinforcement of their national institutions and the participation of civil society.
SA-10.06.2014
[1] - ICOMOS Is the International Council on Monuments and Sites
Last Updated on Sunday, 05 October 2014 08:09