Written by L'orient le jour
Friday, 21 November 2014 14:48
Fondé en 1911, l'hôtel Baron a accueilli les plus grands, de Lawrance d'Arabie à Gamal Abdel Nasser,
en passant par Charles de Gaulle, Agatha Christie et Kemal Ataturk.
Fondé en 1911, l'hôtel Baron a accueilli les plus grands, de Lawrence d'Arabie à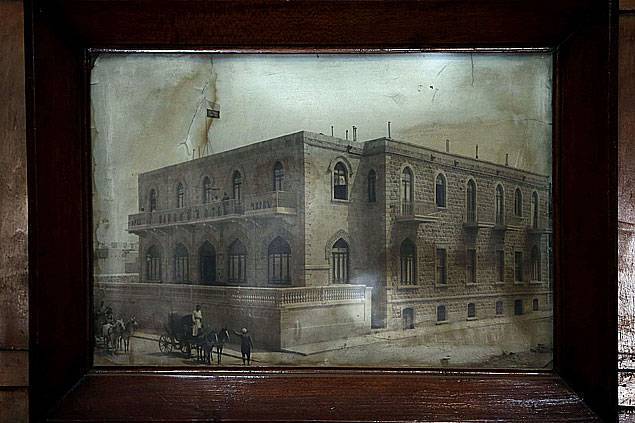 Indifférent au bruit des balles des tireurs embusqués et des obus qui s'abattent à proximité, le propriétaire du plus célèbre hôtel de Syrie est déprimé : la guerre l'a
contraint de fermer après un siècle d'existence.
Dans le centre d'Alep, Armen Mazloumian, 63 ans, sirote son café sur la terrasse de
l'hôtel Baron. La ligne de front séparant les forces gouvernementales et les rebelles
n'est qu'à quelques mètres.
Fondé en 1911 par son grand-père, dont il porte le nom, l'hôtel a longtemps été le
plus huppé de cette grande ville commerçante, industrielle et historique.
C'est là que l'ancien président égyptien Gamal Abdel Nasser prononça un discours
en 1958, et que la romancière Agatha Christie rédigea dans les années 1930 deux
de ses livres les plus lus : Le crime de l'Orient-Express et Meurtre en Mésopotamie.
http://www.lorientlejour.com/article/896995/la-guerre-a-porte-un-coup-fatal-au-plus-celebre-
hotel-de-syrie.html 
Témoignages
24 nov. 2014
Bonjour, J'y fus plusieurs fois, la dernière en avril 2006, avant de louer un minibus  avec chauffeur pour faire un tour dans le
Jabal Zawieh et les villes mortes et Afamia, puis Jisr et  la montagne autour de Qasr Salah edd din, descendre par la
route au-dessus du Ghab, en plein brouillard avec quelques entrevues au lever du jour, puis vers Masyaf, son chanklish,
et un peu avec le coucher du soleil voir encore le Qalaat el Hosn.
A Paris
Bernard CORNUT
 23 nov.2014
Bon dimache Amin, bon dimanche à tou(s)tes
Né à Harat Al-Dablan (Homs), enregistré à Bahsa Barranieh (Damas) et passé mon enfance et adolescence à Jamilieh
(Alep)et obtenu mon Bac et mon titre universitaires à Damas... Hotel Baron a fait part
inné de ma mémoire et a fait de moi aussi le "produit" de tous ces
attaches avec notre patrimoine collectif...qui fait appel à notre intelligence collective afin de continuer de rayonner(malgré ces éphémère petites tâches noires) pendant une autre douzaine
de millénaires qui font aujourd'hui l'âge adulte de notre éternelle
et immortelle Blad Ech-cham
English version
Blessed sunday Amin and to all friends
 Born in Harat Al-Dablan (Homs), registered at Bahsa Barranieh (Damascus), and spent my
childhood and adolescence in Jamilieh (Aleppo) and obtained my high school and my academic
titles in Damascus .. .
Hotel Baron is part 
of my deeply embedded memory,
 which makes
me "also" the "product" of all 
these ties to all sort of our collective heritage ... which appeals to
our
collective intelligence to cross (despite some short lived black spot) another
dozen of millenniums, which are the adult age of our eternal and immortal 
Blade Ech-cham
Hassan Zineddin

22 nov. 2014
cher ami, Un grand merci de nous avoir envoyé la photo de l'hôtel Baron: j'y ai séjourné quelques
 jours, il y a longtemps et j'en garde un merveilleux souvenir. amitiés 
Yvette Suzanne TERGIMAN 

Last Updated on Thursday, 27 November 2014 16:30