Written by Antoine Touma
Wednesday, 08 December 2010 10:30
The Arts and Crafts of Syria/Collection Antoine Touma and Linden-Museum Stuttgart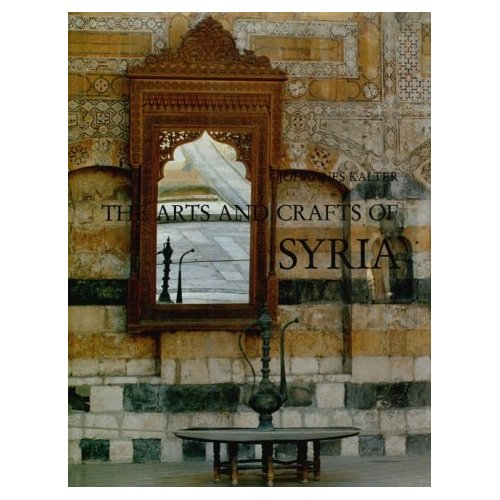 http://www.amazon.com/Crafts-Collection-Antoine-Linden-Museum-Stuttgart/dp/0500974012
Product Description
City dwellers, farmers and nomads, Arabs, Kurds, Armenians, Turks, Muslims, Christians and Jews - all have made their contributions to the colourful mosaic of Syria's craft traditions. Textiles and silver jewellery produced in the towns are complemented by peasant handicrafts: bold ceramics, mats woven from white straw with spirited designs. Dresses with profuse embroidery or geometric patterns display the origins of the women who wear them. Syrian nomads make brilliant carpets with which to decorate their tents and their camels. At the time of the Crusades, Damascene cloth and metalwork, and glassware from Aleppo, were much sought after in the courts of Christian princes. Even at the end of the 19th century, Syrian handicrafts were still regarded as luxury items in Europe. Now the whole span of this enduring culture is comprehensively treated, with explanatory text and over 600 illustrations, in an overview of Syria's material legacy. Johannes Kalter is head of the Oriental Department at the Linden-Museum, Stuttgart. Margareta Pavaloi, also based there, is an expert on ethnology and Islam. Maria Zermickel, art historian, manages the Department of Records.
Antoine Touma Clarifications
"The book is an exhibition catalogue centered about my collection of syrian costumes and jewelry as well as daily utensils used in evry day life
Kalter is the ethnograph who encouraged me to bring my collection to Stuttgart on the promise he would pubish it in German and English (which he did) now part of my collection is still on exhibit there and subsequently in the Rotterdam Museum of Ethnography under the Touma collection  of syrian arts and crafts - the remainig items (some 80 per cent) are back in Damascus and await a new invitation to be shown to public - recently the Musee Quai Branly heard of my collection - visited me in Damascus but unfortunately it was too late to include it in the collection coz a jordanian collector : Widad Kawar had already presented a collection of palestinian and jordanian costumes."
Extrait de "L'Artisanat en Syrie: Etude de Samir Abdulac" publié sur mlfcham dans Culture->patrimoine


"Dès le XIXème siècle, l'empire ottoman épuisé ne pouvait plus s'opposer aux puissances ..... la collection réunie par un grand amateur d'art syrien, M. Antoine Touma. Le livre "The Arts and Crafts of Syria" a été édité à cette occasion en 1992"
Last Updated on Sunday, 19 June 2011 15:45