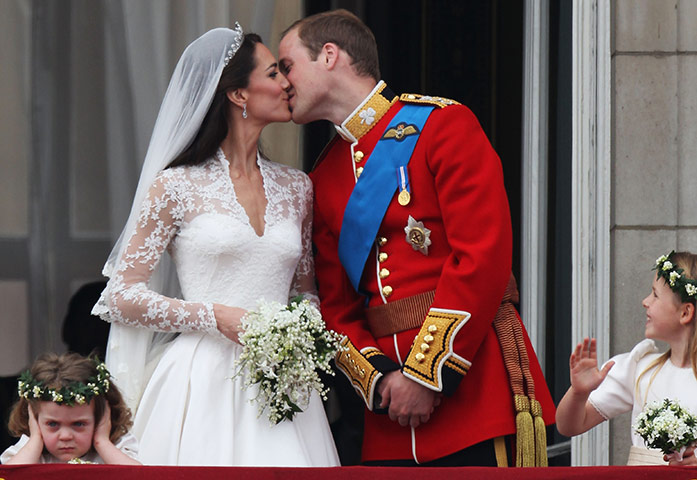 Kate Middleton entered Westminster Abbey as plain Kate Middleton, but emerged as Her Royal Highness the Duchess of Cambridge, Countess of Strathearn and Baroness Carrickfergus.
But it was not just the acquisition of the HRH style, the clutch of titles and the slim Wartski gold wedding band on her finger that transformed Prince William's bride into a future queen.
Before the 1,900 abbey guests, hundreds of thousands on London's streets and millions watching TV across the planet, the metamorphosis of the middle-class millionaire's daughter from Middle England to full-time member of "The Firm" was complete.
Just as her Grace Kelly-esque gown was said to symbolise the "opening of a flower", Kate – or Catherine, as she is now referred to – blossomed into a fully fledged royal with her polished conduct and bearing on this most important of royal occasions and before a global audience.
There was no fluffing of lines, no trembling of bridal hand – not even when her groom struggled to slip the ring on her finger. Nerves were betrayed only by a series of small, almost imperceptible, swallows just before she took her vows.
Her curtsey to the Queen at Westminster Abbey, the first time Kate has been seen "paying obeisance" to the monarch in public, was flawless despite her 5ft wedding train. And the regal wave, much in evidence during the couple's carriage drive to Buckingham Palace, was coming along nicely.
These are, indeed, auspicious signs. No wonder the Queen was smiling broadly. For Kate's role now is to be royal wife and mother, to renew the House of Windsor, and to showcase Britain around the world. This was just the start of her new job – indeed her first full-time job. Soon she will have Canada to conquer on her first royal tour. Many challenges lie ahead. Judging from her performance so far, she is perfectly equipped to overcome them.
Long after her wedding, Princess Diana told royal biographer Andrew Morton, therefore broadcasting it to the world, that she felt like a "lamb to the slaughter" on the eve of her marriage to Charles.
"One minute I was nobody, the next minute I was Princess of Wales, mother, media toy, member of this family, you name it, and it was too much for one person at that time," she is quoted as saying.
Times have changed, though. Before Charles and Diana's wedding they had not even spent a weekend away alone together. Kate, at 29 one of the oldest royal brides, and William have known each other for a decade. They cohabit already. They split up before their marriage, hopefully reducing the odds of them doing so afterwards. That they instinctively know each other was clear during the strain of the wedding service.
"You look incredible, beautiful," William whispered to Kate as he got his first glimpse of her in bridal gown on the sacrarium steps, surely lessening any nerves.
The two exchanged smiles and glances throughout – he even winked at her at one point. When they took their vows, the congregation might as well not have been there as they fixed their eyes solely on each other. At certain moments, William reached for her hand. When it was their turn to kneel, she managed it elegantly in her show-stopping dress as he helped steady her.
Even "the kiss" on Buckingham Palace balcony, duly demanded by the crowd below and undoubtedly dreaded by the couple themselves, was executed with poise. It was fleeting, quite chaste in fact. William blushed, reminiscent of his father's self-consciousness when he had been required to perform "that caper" in front of millions 30 years previously.
But when the crowd bayed for more, they obliged before walking hand in hand back through the doors of the palace, with Kate taking one last glimpse over her shoulder at the scene below.
"A royal family sweeten politics by the seasonable addition of nice and pretty events," wrote the 19th-century constitutional expert Walter Bagehot. This was one such occasion; a moment of light to pierce the economic gloom.
Royal weddings have long evoked past so-called glories – and not so glorious moments – through centuries-old pomp and pageantry. They also hint at future possibilities, the promise of another generation and renewal of the ancient institution of the British monarchy.
They provide, too, an opportunity to get the tills jingling, to dust off ceremonial uniforms and customs, pray for sunshine and project Britain around the world.
"There's no greater country and better place to be than right here, right now," said a morning-suited David Cameron after the ceremony, no doubt delighted at the national distraction from the country's woes.
The superstitious who believe the House of Windsor to be cursed point to the marriage failures that have beset the Queen's children as proof. And, not to chance fate, there were no such declarations as that made during the ceremony 30 years ago by an enthusiastic Robert Runcie, Archbishop of Canterbury, who declared Charles and Diana's union "the stuff of fairytales".
But for the many thousands who lined the Mall, who camped outside Westminster Abbey, who packed into Trafalgar Square and Hyde Park to be part of the wedding day radiance and romance, they want the ending "… and they lived happily ever after."