Written by Nicolas Chahine
Monday, 06 July 2015 12:31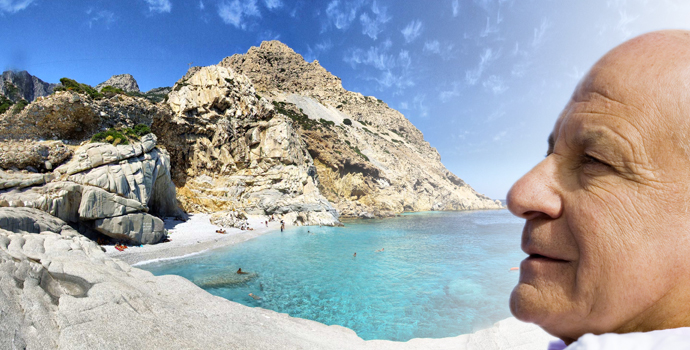 Le journal américain The New-York Times a publié la semaine dernière un article extraordinaire intitulé « L'île où les gens oublient de mourir » (The Island Where People Forget To Die). (1)
Il rapporte l'histoire d'un combattant de la seconde Guerre mondiale d'origine Grec, Stamatis Moraitis, qui partit s'installer aux Etats-Unis après l'Armistice.
Alors qu'il avait adopté le style de vie américain, avec villa en Floride, deux voitures, trois enfants, Stamatis Moraitis apprit en 1976 qu'il avait un cancer des poumons. Neuf médecins confirmèrent le diagnostic et lui donnèrent neuf mois à vivre. Il avait 62 ans.
Il décida alors de retourner avec son épouse sur son île natale d'Icare, en mer Egée, pour être enterré aux côtés de ses ancêtres dans un cimetière ombragé surplombant la mer. Stamatis s'installa dans une maisonnette blanchie à la chaux, au milieu d'un hectare de vignes escarpées, sur la côte nord-est d'Icare, et se prépara à mourir…
Il se prépare à mourir, puis…
D'abord, il passa ses journées au lit, soigné par sa mère et sa femme. Mais bientôt, il redécouvrit la foi de son enfance, et commença à se rendre, chaque dimanche matin, à la petite chapelle grecque orthodoxe en haut de la colline, où son grand-père avait été pope. Lorsque ses amis d'enfance apprirent son retour, ils commencèrent à lui rendre visite chaque après-midi. Leurs conversations pouvaient durer des heures, et s'accompagnaient invariablement d'une ou deux bouteilles de vin du cru. « Autant mourir heureux », se disait Stamatis.
Last Updated on Monday, 06 July 2015 12:56
Read more...
Written by FW:Catherine Bourdalé
Saturday, 07 April 2012 12:10
Un infarctus féminin ne débute pas de la même façon
que pour un homme.
Read more...
Written by Al Sears
Friday, 02 March 2012 08:43
February 29, 2012 

As you get older, there's a good chance you'll experience changes in your blood sugar. And if you're not careful, it can lead to health problems like diabetes and obesity.
Last Updated on Friday, 02 March 2012 09:08
Read more...
Written by WikiStrike
Wednesday, 25 January 2012 14:18
 Les américains veulent étouffer l'affaire.
Read more...
Written by Al Sears, MD
Thursday, 12 January 2012 10:48
Are you painstakingly saying each word in your head? The mechanics of doing this may actually get in the way. It might be slowing you down, and you're probably only retaining about 10 percent of what you read.
Read more...
<<

Start

<

Prev

1

2 3 Next > End >>


Page 1 of 3