Written by Yasmine Seale
Saturday, 05 April 2014 21:06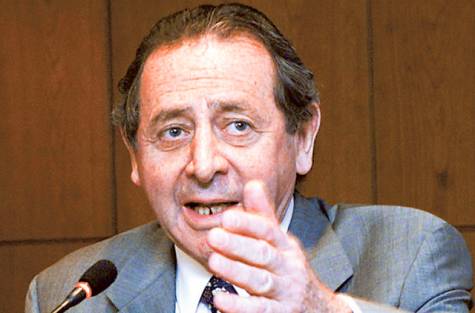 Patrick Seale, the famous British journalist and

writer, died of a brain tumour yesterday Saturday

April 12, 2014, In London.  He is survived by his

two children from Rana Sabah Tawfic Kabbani,

Alexander and Yasmina.

 (more details in Nicolas Chahine new comment)


For fifty years Patrick Seale's scholarship on Syria has been without equal. Here is a review

I wrote in 2004 of his first book The Struggle for Syria,  1965, new edition, 1986,

Patrick Seale's "Struggle for Syria" should be one of the first books read by anyone interested in Syria or the Middle East. It is a crime that Yale UP has allowed it to go out of print. Seale was the first Middle East specialist to give us a comprehensive and extremely lively explanation of how the emerging Arab state system actually worked. What is more, he tied it deftly and imaginatively to the domestic politics of the region – something no one had done so well at the time, and few have come close to emulating since. It is as relevant today as it was in 1965.


Seale was one of the best reporters in the Middle East during the 1960s and remains so today. He interviewed just about every politician and military figure of importance in Syria, where his father taught, and he grew up. His Arabic and French are fluent, and his sixth sense for what makes people tick is unerring.

Some have accused Seale of being soft on Arab Nationalism and the early Baathists, but no one can claim he didn't know them and understand their view of the world. Every Syria specialist owes Seale a tremendous debt. Without him, we would know half of what we do of Syrian politics in the 20th century. Most of our works are but dull shadows of his. All of us start by contending with his arguments and evidence. I spent years in archives in Washington, London, France, and Syria going over the diplomatic correspondence for the period that he wrote about. He never made a mistake of fact. An amazing feat. So many others did – or they missed important elements of the story.

Seale's biography of Hafez al-Assad also remains the best book on contemporary Syria. But the Struggle for Syria is a true masterpiece.

COMMENTS
Dear Amin
Thank you for sharing this information about Author Patrick Seal
This is a true gentleman. I am one of his many admirers and have had the chance to know him rather well. We had lunch in his flat in Paris a few years ago before he moved to London. We met several times in Damascus when he was researching his book on President Assad.
His knowledge about Syria was vast. His love and his care about our country was as profound.
He produced rich and very well documented narratives about the intricacies of the complicated Syrian political struggles. His books became serious references.
Now that he has this devastating disease from which death is the only outcome, we pray that his remaining time well be as peaceful as possible. He had a full life and will be missed and remembered by many and for a long time. Kindly share this note with his daughter and rest of family. Her mail address does not appear in your email so that I could do it directly.
Thanks and regards.
Nicolas A Chahine MD FRCS FACS -
6 april 2014
 Note: Patrick Seale was born in Bludane. His father reverend Seal occupied the now destroyed and replaced building of the protestant mission on the road of Abusad.
Chers amis,
Je viens de recevoir le message de "Yasmine Seale". je commence par ma réponse à l'ami qui me l'a envoyé suivi du texte très émouvant de Yasmine: Si tu renseignes "Patrick Seale" sur mlfcham, tu trouves 6 articles, le dernier: "Extracts from "Grim Prospects for the Middle East in 2013" - by Patrick Seale " publié le 3 janvier 2013:
http://www.mlfcham.com/index.php?option=com_content&view=article&id=1399:extracts-from-qgrim-prospects-for-the-middle-east-in-2013-by-patrick-seale&catid=273:vision&Itemid=1922
Le 22/08/2012 j'ai publié l'intégralité du texte : "Patrick Seale: The Destruction of Syria "
http://www.mlfcham.com/index.php?option=com_content&view=article&id=1325:

the-destruction-of-syria-&catid=269:

syrie&Itemid=1848
Le plus ancien " Time for the Arabs to Act " est publié le 15 déc. 2009. Je vous laisse découvrir les 3 autres. Avec mes amitiés 
Amin
5 avril 2014
 Nicolas Chahine New Comment - 12 april 2014
Dr. Patrick Abram Seale, the famous British journalist and writer,   died of a brain tumour today Friday April 11, 2014 In London.  He is survived by his two children from Rana Sabah Tawfic Kabbani, Alexander and Yasmina. Patrick and Rana were separated. His father Morris was a protestant preacher who lived in Bludane. Until a few years ago his house was still on the right of the road to Abuzad. He researched and wrote extensively about Syria. He mentioned me in his book in President Hafiz Assad, along with a few others of his acquaintences as sources of information in the research of his books. His first book, The Struggle for Syria published in 1965 is now a classic, as are several of his other writings. I had the pleasure of dining with Dunia Jacques and Da'd Tarazi at their flat in Paris 3 years ago, before they moved permanently to London. Then we lost contact.
Last Updated on Thursday, 17 July 2014 16:59