Written by Ghassan Abdullah
Monday, 01 September 2014 17:47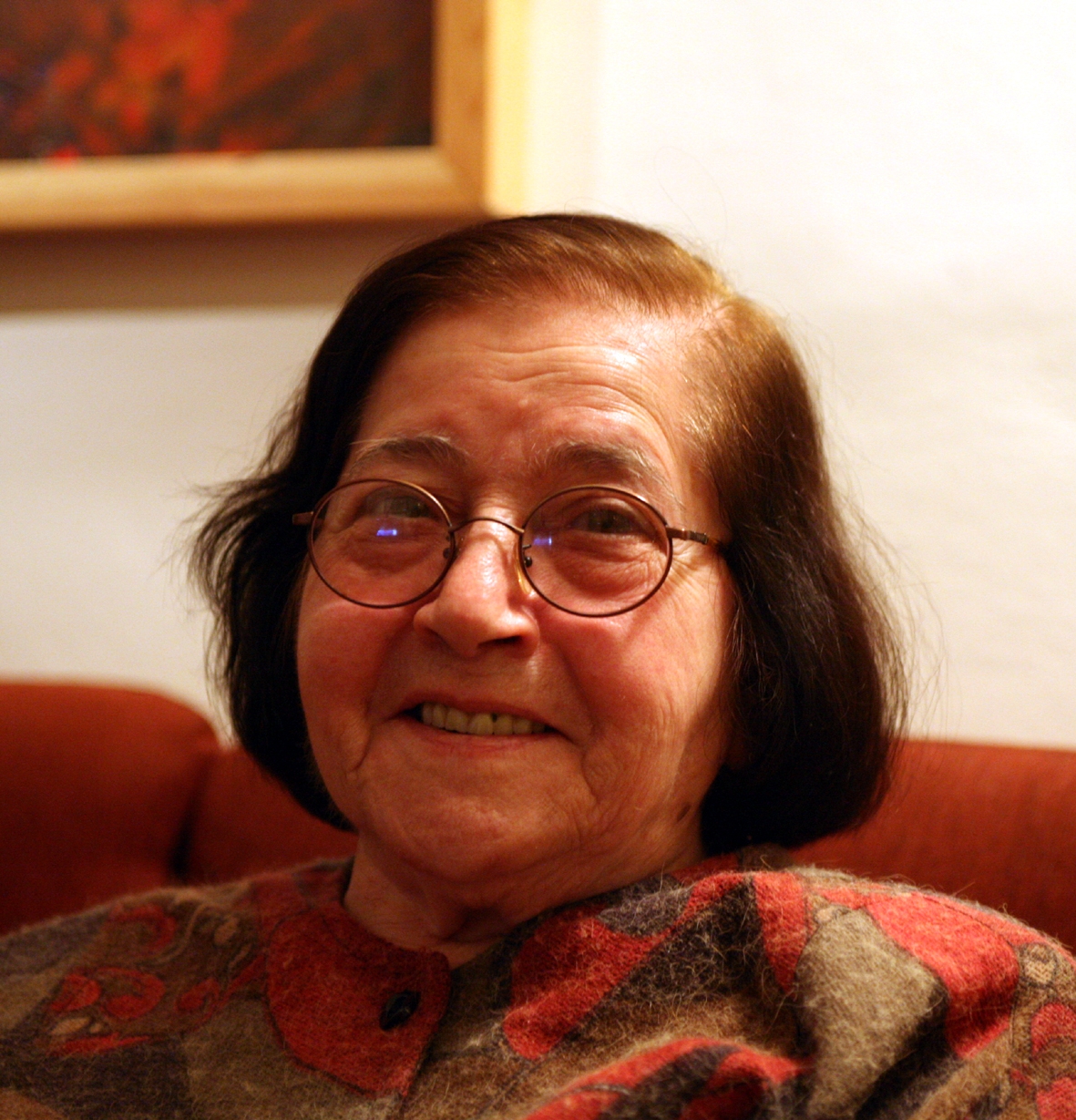 Nadia Jubran Azzam-Abdullah (1919-2004)
Haifa, 1948; Beirut, 1982; Ramallah, 2002: The story of Nadia Abdullah and her family reflects the history of the past 56 years.      
By Amira Hass, Haaretz, Friday, April 23, 2004
The family of Nadia Abdullah, known as Umm Ghassan, learned from its experiences. After losing family pictures from their home in Haifa in 1948, they decided in 1982, during the Israeli assault on Beirut, to give all their photographs to Druze friends for safekeeping. In 2000, with the outbreak of the Intifada, one of Nadia's children, who had worked for a Jordanian bank in Ramallah but was forced to leave when Israel did not renew the work visa in his Jordanian passport, took all the pictures with him. He figured they would be safest with him, in Amman.
Nadia Abdullah was born in Acre in 1919. Her life has been divided between three main stations - Acre, Beirut and Ramallah - but she has also lived in Haifa,Nablus, Jaffa, Tiberias, Naqura, Al-Zib ("you call it Achziv," she says) and Metula. She has also resided in the villages of Samakh and Jisr al- Majama'a (villages south of the Sea of Galilee that have since been destroyed), and again in Tiberias and Haifa, and then in the village of Tubas, south of Jenin, where her husband comes from. The map then was of a single, open and expansivePalestine. Later, she lived in Damascus, Beirut and Amman - already the map of wars, partitions and restrictions.
Until the age of 18, her place of residence was determined by the location of the Christian schools she attended. When she married Fahim Abdullah, a customs official, she followed him to the various places where he was sent to work. Later, the education of her four children dictated where they would live. After Damascus and Beirut, they moved to Amman in 1982, when the Lebanese authorities expelled many Palestinians after refusing to renew their residency and work visas. A simple Palestinian story.


The family came to live in Tubas for a year and a half, starting in 1948, due to the war (which she refers to as "the troubles"). She had been living with her husband and children in a rented apartment in Haifa's Wadi Nisnas neighborhood at the end of 1947 when battles and confrontations began to rage between Arabs and Jews. With small children who ran to her in fright every time they heard an explosion; with reports of bombs planted by Jews in vegetable baskets at the market or of explosives tossed at Arab workers on the way to work at the oil refineries; with the reprisal actions and the British army searching the home for an arms cache (which the tenants later found and reported) - the most natural course of action was to leave the city until the situation calmed down.


When exactly did they leave Haifa, at the end of 1947 or beginning of 1948? Nadia Abdullah remembers these things according to family milestones, not political-national events. "Imad was born in 1946 and was 1 year old when we arrived in Tubas." She does not remember exactly when her father-in-law came from Tubas to Haifa and told his son: "Don't leave your children here with all the shooting and fear. They'll be better off in Tubas." She does not recall precisely when the taxi came to their home in Haifa to take them to the village where her husband was born. But she remembers that the building in which they lived in Haifa was already empty of tenants: everyone, including the owner, had already moved to quieter locales to wait out the fighting. They loaded a few pieces of furniture and some children's clothes onto a small truck and rode in the taxi to Nablus, where they switched to another vehicle. The truck continued with them to Tubas. Her husband stayed for three or four days before returning to his job in Haifa. When he returned a month later, he happily announced that he had rented a new apartment, paying three months rent in advance. The new apartment was larger, he said, and he moved all the furniture and possessions that had accumulated in the old apartment into their new home.

In Tubas, Nadia dreamed about the comfortable apartment awaiting her in Haifa. But when her husband tried to return to Haifa, he did not succeed. Reports began to arrive of the expulsion of the Arabs who had remained in Haifa. "I had a relative who worked in a school in Haifa," she says. "During one of the lulls in the fighting, she went out of the house. There were Druze in the streets shouting `Yalla (Get moving) to the sea, yalla to the port.' Everyone was forced to get on ships that took them to Acre, which was still in Arab hands."


In Tubas, she learned that her brother, who had joined the army of Fawzi al-Qawuqji, was seriously injured in battle and lying in a hospital in Nablus. Her mother somehow managed to go to his bedside from Acre. When he died from his injuries, they could not bury him in the family plot in the Christian cemetery in Acre.


"We already knew then that Acre had been conquered by the Jews," she says. (This occurred in late May 1948.) They buried him in Tubas. During a cease-fire week, apparently the second lull in fighting in July, they told her mother that it was time to leave Tubas. But she did not manage to reach Acre. Instead, she traveled to relatives in Amman, and later to Beirut. She would never see her house or homeland again.
Refugee status


In Tubas, where the small Christian community lived amid a Muslim majority, the level of education was then very low. When the neighbors came to her father-in-law's guesthouse, they would ask her to read the newspapers to them because they did not know how to read or write. "I told my husband that we needed to move somewhere else, where the children could go to a better school," Nadia says. "We chose Damascus because my aunt was married there."


They lived in Damascus until 1963, but did not fraternize much with Syrians. They spent most of their time with family, friends and former neighbors whose status as educated middle and upper class Christians in Palestine had deteriorated to that of refugees. Even if they did not live in refugee camps or suffer great deprivation, they were regarded as foreigners. "In Damascus, my husband began to drink," she says. Was this the pain of being a refugee? She does not volunteer an explanation.


In general, Nadia Abdullah does not interject emotion while recounting her story. She leaves it up to the listener to draw the conclusions. She also allows herself to recall, with a mischievous smile, "the many suitors who came from Nazareth to ask for my hand," when she was still the unmarried Nadia Azzam. Her mother rejected the suitors. Rumor had it that men from Nazareth drink too much alcohol.


Fahim Abdullah was a friend of her brother-in-law. He was educated and held down a good job as a clerk in the British customs office. And he did not drink. He was, however, from a family of fellahin (peasants), who came down to work their land in the Jordan Valley (Al-Ghour). Fahim's father was born in the fields; it was customary then for a pregnant woman to continue to work the land as usual. Fahim's father was not educated. He was drafted into the Turkish Army as a cook and was determined to give his son a better education so that he would not have to serve in a foreign army. He did not live long enough to see that his grandchildren would even surpass his son in education: Nadia and Fahim's four sons include a computer scientist, an architect, an engineer and a senior bank official.


During the 1960s, they lived in Beirut; this was the happiest time in Nadia's life. They lived in the midst of a large family, with Palestinian Christian acquaintances. They did not visit the refugee camps. "The urban refugees came to Beirut. The villagers came to the refugee camps and we didn't know them," she explains. One time during this period in Beirut, she called a carpenter to fix a broken couch. "You look familiar to me," he told her. She said that her family was from Acre and mentioned that her father's first name was Jubran. The carpenter was overcome with emotion. "I worked in your father's carpentry shop in Acre," he said. The carpenter insisted on repairing the couch free of charge.


The civil war in Lebanon and the Israeli attacks did not drive them out of Beirut. On May 15, 1982, her husband died. During the funeral, Israel fighter aircraft flew overhead. She remembers that the IDF cut off electricity, the water stopped flowing and there was a severe food shortage. She recalls very clearly the Israeli shelling and the bombings from the air, mountains and seas. There were vacuum bombs that sucked the air from the buildings, phosphorus bombs that spread unbearable heat, and other bombs that killed dozens each day. The top floors of her building in Beirut were hit by shells four times. Nadia and the neighbors huddled in the staircase on the ground floor, where she lived, and they survived.
A life with Jews


The experience in Beirut prepared her for the Israeli military incursion in Ramallah. In April 2002, Umm Ghassan lived with her second son in an apartment in the A-Tira neighborhood, in western Ramallah. Marwan Barghouti also lived in the same housing complex. Soldiers conducted nighttime searches of the apartments three times. Each time, they sent one of the neighbors to inform the other residents to come outside and leave their apartments open. "We were afraid that they would steal something, but they didn't take anything," she says. "They just made us go out in the middle of the night and left us outside for several hours."


In Beirut, during the Israeli attack, Umm Ghassan vowed that this time she would not leave her home. She feared that others, expelled from their homes in the south, would move into her empty apartment. Without explicitly saying so, it was clear: she was not willing to experience the trauma of losing a home again. This experience of losing a first home became more acute after 1967, when Israel conquered the West Bank and Gaza Strip. In 1972, she and her husband came on their first visit, with entry visas stamped in their Jordanian passports. Her husband had a close friend who was Jewish, and they learned that he had become a senior customs official in Jerusalem.


"We gave the man at the door our name and the friend came running down the stairs and hugged Abu Ghassan," she says. He said we could ask for anything we wanted and Abu Ghassan requested `family unification' [that is, renewal of Palestinian residency in the West Bank - A. H.]. The friend intervened and we received identity cards as West Bank residents, as residents of Tubas. The children did not, because they were over the age of 16."


It was only natural to look up the Jewish friend; memories of a life shared with Jews remained fresh. After her father died, her mother rented a room to a Jewish family and "I played with their daughter," she recalls. "They were Jews whom we referred to as Arab Jews. They knew Arabic. They were not immigrants." In Tiberias, where they lived for several months with her brother-in-law, there were Jewish neighbors: "And we became friendly. Everything we cooked we gave to each other. We didn't feel like we were strangers or anything like that."


In Haifa, when World War II began and the Axis planes attacked, "we went down to the bomb shelters together - Jews, Muslims and Christians. And everyone prayed in his corner, at his prayer time, that we would emerge safely." In Metula, where her husband was transferred to work, they rented a room from a Jewish family ("very old people, from Poland") and shared a kitchen and bathroom with them.


During the 1970s, when they already had residency status, they went on many outings "to visit all of Palestine." She uses the word "visit" without a trace of irony or protest. In Acre, they discovered that a family of Palestinian villagers had taken up residence in her mother's home. There she found one piece of furniture she remembered from her childhood, that had been built by her father.


They also visited the village of Rama. Like other Christians from Acre, her family had homes, much land, and olive groves there. They found people they did not recognize living in their family home. As "absentees," Umm Ghassan's family lost all of its land and property in the village.


What is more difficult, to visit your home, in which others are living, or to visit a place like Al-Zib (Achziv) where the home no longer exists? Umm Ghassan does not dwell on questions like this. "Everybody lost homes," she says. "My mother had a big house, my brother had a new home, and everything was lost in 1948. My aunt's home in Acre is now the office of an Israeli tourism bureau. And all of the land is gone. We always think about this, but what can we do? It's impossible to mourn over everything all the time. We lost everything. But we're lucky. No one was killed in our family." 
Last Updated on Monday, 08 September 2014 10:04